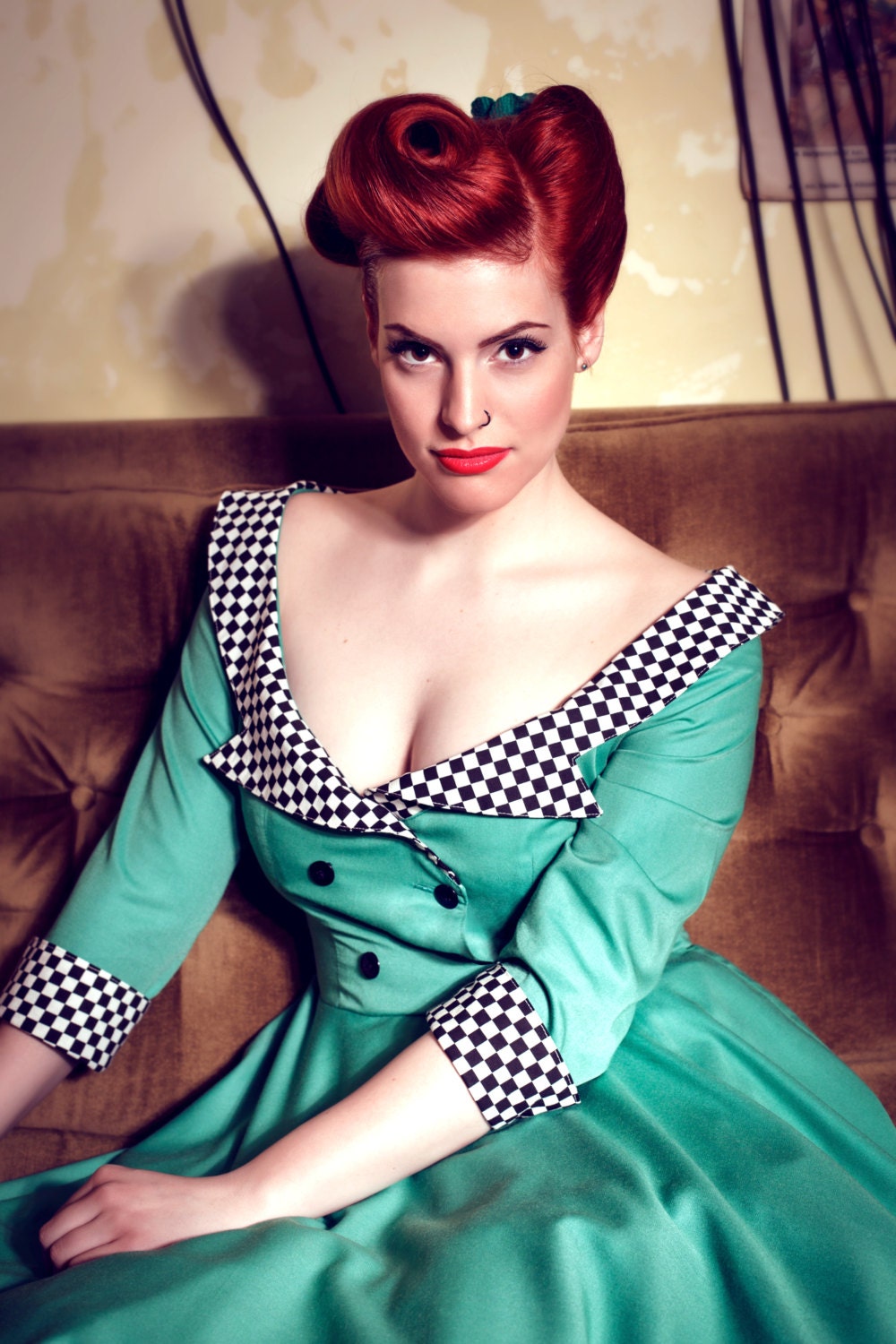 Acevog Floral 1950s dress
These fantastic, super cute floral dresses are made mostly of cotton with the right amount of stretch. The slight stretch in the fabric allows easy movement and a flattering it. No matter how many times you wear them, you will receive a lot of compliments because they are so feminine. Wearing petticoat under these dresses is very recommended, but they could be worn without one just easily. Also, they are very flattering to the plus size figure.
They are available in sixteen different colors (black, red, purple, blue, gradient purple, pure red, red + black, black floral, dark apricot floral, pure black, white floral, apricot floral, pure blue, pure green, black rose, polka dot blue). The dress ships from China and it comes in reseleable thick plastic and will protect your dress during transit.
These cuties are perfect examples of inexpensively priced, great summertime or spring dresses. The material is thin, but it's not see through and they are very comfortable. The dress ships from China and there may be some quality issues. The zipper is a solid pull tab, so you can't get it zipped up when alone. You will need assistance in zipping it up. At this price, you can purchase more in different patterns. And 59% of customers say this dress fits as expected.
These pin up dresses are perfect match with rockabilly shoes.
Bridget Bombshell dresses
These beauties are perfect if you are seriously stylish and enjoy retro fashion. The fabric is soft, smooth and silky. The fit is excellent, it feels really great, and makes you look fabulous. It could be worn to dinner, for work, for travel, dance, church, wedding or any other similar occasions.
It comes in seven different sizes, and six different colors (black, red, navy red hearts, B&W polka dot, navy blue, red polka dot). It is made 90% polyester and 10% spandex. Also, these beautiful pin up dresses are made in the USA, ensuring great quality.
This 1950s style dress is conservative, it's flattering, but at the same time, not too revealing and it would look stunning on taller and leaner woman best. If it's too black, you can try it with bright solid tights.
The well prepared girl should always have dresses like these in the closet. Classic pieces of clothing like these are flattering to any figure and create a slimmer silhouette.
On the negative side, you may find that fabric is somewhat thin that you can see through material. Also, make sure you measure yourself and match your measurements to the size chart before buying.If you're girl that's looking for classy pin up dress, this is the one that you are going to want to get
Halter Vintage Full Circle Dress
This 1950s style dress is made 100 percent of cotton, and it is available in three different colors –
navy blue, black and red. It is very comfortable stretch halter dress and has a really full circle skirt.
Dress hits just below the knees, without the petticoat underneath. This vintage dress Is perfect as a wedding
dress, for parties, dances and any other occasions. It's very cute and affordable.
Also, it definitely can be worn for outdoor activities. Usually, delivery is very fast. The only thing is it runs small, maybe think
about buying the dress a size larger than you do normally.
Maggie Tang White 50's Retro Swing
If you are looking for classic and iconic style that will never be out of fashion, these piece of rockabilly clothing is perfect choice for you. They are designed by Maggie Tang, and you will get full rockabilly look by wearing them.
You can wear these dresses for rockabilly dance and pair them with heels and petticoat but they have a nice flare even without it. They have perfect quality and fit, and you will receive lots of compliments from friends and boys and look forward to find excuses for wearing them. This beautiful rockabilly style dress is made in four different sizes, medium, small, large, XX – large, 100% of cotton, and in white red color. It is a very attractive pattern, with pleasant material.
These 50s style dresses will have you looking passionate and spectacular on the dance floor. Also, material is light, making these dresses perfect for summer or maybe as a birthday present. There is a side zipper, and elastic in the back that helps to stretch.
On the negative side, if you are thin and/or tall, you may not be delighted with the fit. Also, straps may be short for you.

So, if you're looking for a fun and colorful pin up dresses to wear to a dance or wedding or any other occasion, then you don't get much better than this. You can see more information and reviews here
Killreal Women's Retro Vintage Style Dress
This beautiful dress is using classic polka dot pattern at the bodice and skirt, creating retro feeling. It is made 95% of cotton and 5% od spandex, sleeveless, low cut, side zipper, fit flare style, with button accents at the front weist, fashionable mimetic open necked design at the bust.
They are great for any special occasion, daily wear, 50's look, cocktail party or new year party. Skirt section is around the knees so you don't have to worry about your butt showing and dress have no pockets.
The colors are true to the picture, and the quality is great for the price, perfect choice for warm and sunny days. It looks solid, but it is not see through, it is thin and wrinkles easily. Also, the stitching is not very professional. It is completely flat across the top, no space for the girls. So, if you have big breast, this dress is probably not the best choice for you. It gives you womanly curves, weather you have them or not.
It is good, sexy and very cute, gorgeous and comfortable, sturdy material and you will receive a lot of compliments on the dress. Petticoat under may be a very nice touch, because the skirt is roomy enough for a petticoat.
Anni Coco 50's Cap Sleeve Swing Rockabilly Dresses
This vintage beauty is 95% cotton and 5% spandex made, lightweight stretch fabric, slimming cutting. Perfect choice for hot weather, evening occasion, wedding, casual, dating…. Cap sleeves are beautiful, heart buttons are super cute, it has fully functional buttons, v neck collared style and you can use a different style belt. It is possible to take the bow off, because it is not attached.
Collars are stiff on this shirt dress, so they can be worn up if desired. The cut of the dress and the breathability will keep you cool. The material is lightweight cotton, and it moves easily with you. It is kind of a stiffer fabric, not too stretchy, but not flimsy like a silk or rayon either. It buttons in center front from the neckline to the waist only. There is about six inch long zipper located under the left arm. You can wear a petticoat with this dress, but it is already a puffy. It is shorter in the front than the back, so finding a petticoat might be difficult.
You can tie the belt like a knot, bow, or a one sided bow, simply depends on what you want, and it is the perfect length, just above the knees. If you are small chested, you could get away with not wearing a bra at all, otherwise,a backless is good choice. Be aware that yellow color is a bit see through, so nude undies are a must. This rockabilly swing skirt is reminiscent of the 1950's, extremely cute in person, as It is in the photos.
GownTown Swing Party Picnic Dress
This one is retro inspired, 1950's cutting style, cap sleeves and lovely plated, made from 95% polyester with 5% spandex, and it has invisible zipper in back. The fabric is stretchy and quite forgiving.
The fabric is comfortably heavy, nice and it's not see through. The dress is very nice, really a retro style. You get a nice smooth line in the dress, because the fabric is very stretchy and the measurements are as given in the size chart. You must a petticoat to get the full skirted look, the dress as it comes will not look like the product photos. If you have a tummy problem, it hides it beautifully.
Also, the hemline is not as shown in the photos. The asymmetric line of buttons on the wrap skirt bring one edge of the skirt up a few inches higher than the other where they meet. It may not be attractive to some people. The belt size does not match the dress. Gowntown ships dress in a thick zippered bag to protect the garment. The instructions with this dress are hand wash only, drip dry (no wringing), no ironing, no dryer.
All in all, this is a great dress of decent quality, given the cost totally worth the price.
GownTown 1950's Stretchy Dresses
The classic Audrey Hepburn style, stretchy 50's dress made from 92% polyester with 8% spandex. With full line invisible zipper in the back, short sleeves, cape collar, lovely pleated. The perfect choice for vacation, wedding, bridesmaid, homecoming, prom and evening dress. In black color, it will be even suitable for funeral.
Also, it can be dressy as well as casual. For dressy you can wear it with heels and petticoat to give it sexy and vintage rockabilly feel, and for casual, no petticoat, little jewelry and flat shoes. The dress comes unbuttoned, so it would be an easy dress to nurse in. If you wear it puffy with the crinoline underskirt, it is right under the knees. If you don't wear it with the crinoline underskirt, it is tea length.
The fit is spot on, and the fabric is heavy with a good amount of stretch. The construction is great for a dress of this price, details are simple, but solid and the skirt is a full circle. The sleeves and skirt are neatly hemmed, and there are no wrinkles around the zipper
It is very stretchy and for smaller bust it will hit at or just above the natural waistline. For a larger bust, it will end up fitting like an empire waist cut. A beautiful dress that will make you feel flirty and fun.
Visit our home page, selection of vintage shoes, bikinis, accessories, retro dresses, polka dot shoes, polka dot dresses, all color pumps
1 s pin up look I love images on Pinterest Vintage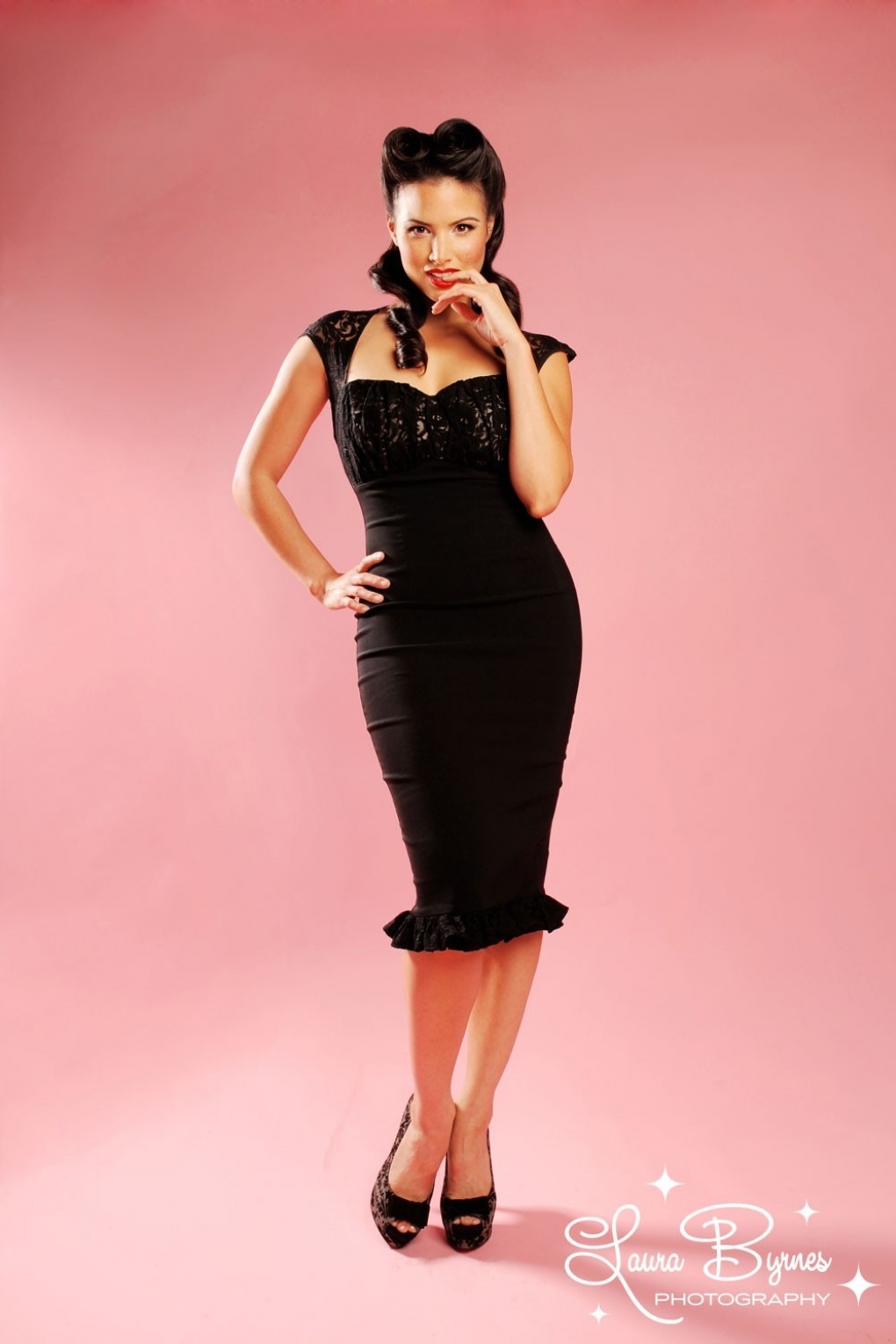 Pin up and 1950s dresses for sale. Find your favourite 50s style outfit
Pinup, 1950 s, fashion, vintage, vintage photoshoot, arkansas, pinup
How To Dress Like A 1950s Pin-Up Girl Vintage Vixen Clothing LLC
A Quick Guide to 1950s Pinup Fashion - Sammy Davis Vintage
M: PinupClothingOnline Women s Bow Trim Pinup 1950s