Back to school fashion for teachers
Because of the nature of the job, make-up and hair must look appealing but also subtle. Too much make-up is never a good look for a teacher so keep shades toned down or even neutral. Pale pinks, bronze or peach are all great shades when it comes to eye shadow as well as lips. With it being summer hair can be left down to add a casual feel, or simple buns or ponytails are acceptable. You can also get away with plaits or braids if done properly. via.
Keeping a casual summer theme in mind why not go almost nautical? Striped tops are great and can be matched easily with trousers and skirts of your choice. Steer away from shorts however as these are not classed as suitable attire for a teacher! Boot cut trousers or subtle flares are great for covering legs but also being loose enough to keep you cool on summer days in the classroom. Skinny jeans can be a good option for trousers too. Why not add a high waist jacket or bolero? Not only will these add layering to your outfit but will also at a tiny touch of authority, just what every teacher needs.
High heels are for the formal business woman so not great for teachers. Especially as this job requires a lot of time being on your feet, go for more small heels or flats. Boat shoes, loafers or ankle boots are all acceptable footwear ideas for this particular job and you must bear in mind that you are looked up to by younger generations. T-Bar pumps, caged heels, and sandals are more night time footwear so do not choose these. For some more cool shoe ideas have a look at our article on 30 Ideal Shoes to Wear With Skinny Jeans.
Accessories for Teachers
Accessories, depending on what you teach, are great for adding a bit more bling to your outfit. As with make-up, though, it should ideally be kept to a minimum and not overwhelming. Too much jewelry with an already exciting outfit can destroy the look you are trying to achieve. Instead, choose colors that suit you and keep it simple. If you are more of a silver than a gold person then choose an elegant bracelet and small necklace. If you are more gold then go for gold earrings as this will add colour at the top and not clash with your outfit.
Have a look at the following images of suitable and elegant outfits and gain your own ensemble creativeness.
Casual Blue and Brown Ensemble
Teachers are the role models for their students that is why a teacher must always dress elegantly without looking like a vulgar victoria secret model. This outfit look is perfect for the teacher who want to look more inspirational. All you will need is a knee length dress or you can also turn any knee length shirt into a knee length dress just by adding a belt. On this knee length dress wear a long sweater or cardigan and matching long shoes and a bag. To follow the latest trend, check out these Cute Halter Dresses; 18 Ways to Wear Halter Outfits Everyday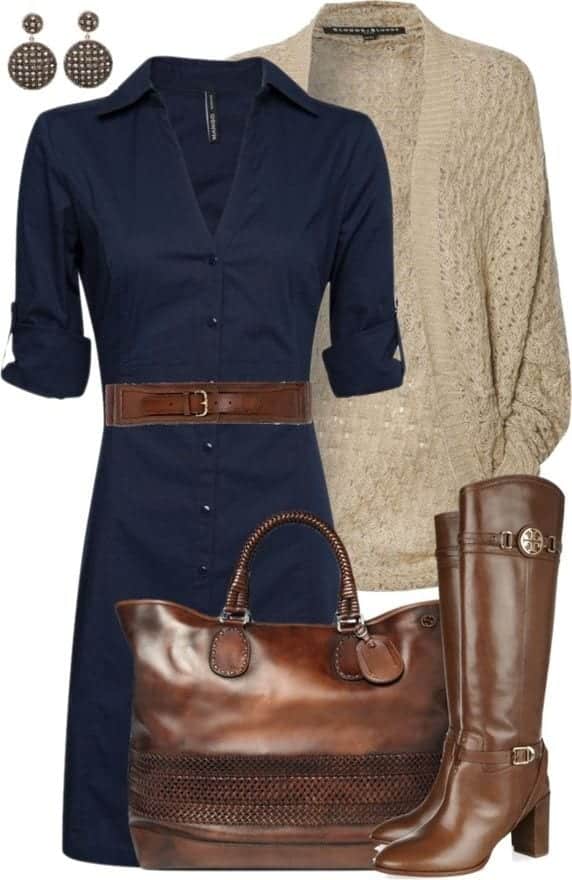 via
Bold Retro Look

Being a teacher does not mean that you can not wear bold colors. You have the open choice to wear bold and exciting colors to keep your students engaged in the classroom. Go for neons or turquoise c0lor for more fun in your outfit.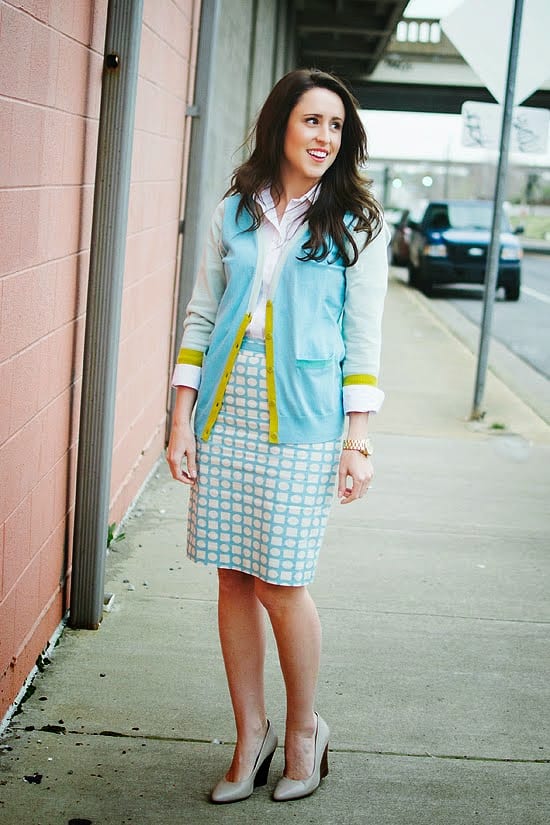 via
Sophisticated but Casual Outfit with Blazer

This outfit is perfect for teachers as it has a variety of colors so one can easily pair it up with different contrasting things. In this outfit look, you don't have to keep the colors in one tone and you can wander away according to your imagination. Go for a green knee length skirt, white shirt with black polka dots on it and bring everything together by wearing a black short coat. Another great option is to go for a plain outfit or tee and wear it with skinny jeans and a printed blazer. Printed blazers look really chic when worn by teachers so do have a look at What to Wear with Printed Blazer? 24 Outfit Ideas This Year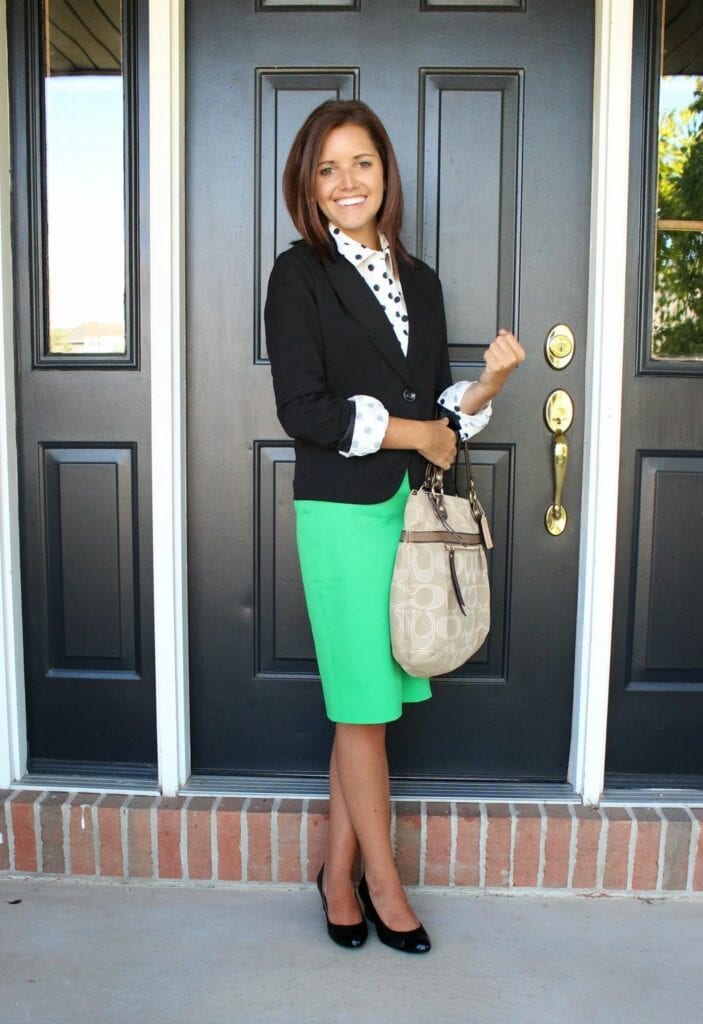 via
Pink Flared Top and White Trousers

Flared tops look so gorgeous on mature women. They give the look of a short but elegant frock. you can pair your fav flared top with plain colored trousers. For example, if you love pastel colors then you can wear light pink flared top with white trousers and add some cool looking white and pink jewelry. As for bags and shoes, you can keep them in nude shades. RECOMMENDED: How to Wear White Wide Leg Pants – 10 Outfit Ideas with Wide Pants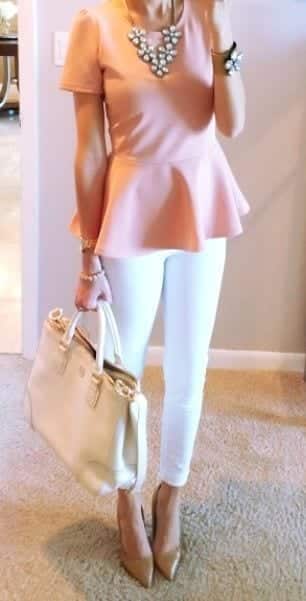 via
Denim and Stripes Outfit

Knee length skirts are the best option available for teachers out there. The best part about it is that you can wear anything with them. It can be a matching top or a contrasting top. You can go for black and white striped knee length skirt and match it with a denim jacket. Don't forget a black Parada purse. RECOMMENDED: 10 of world's most Creative and Strange Handbags/Purses Collection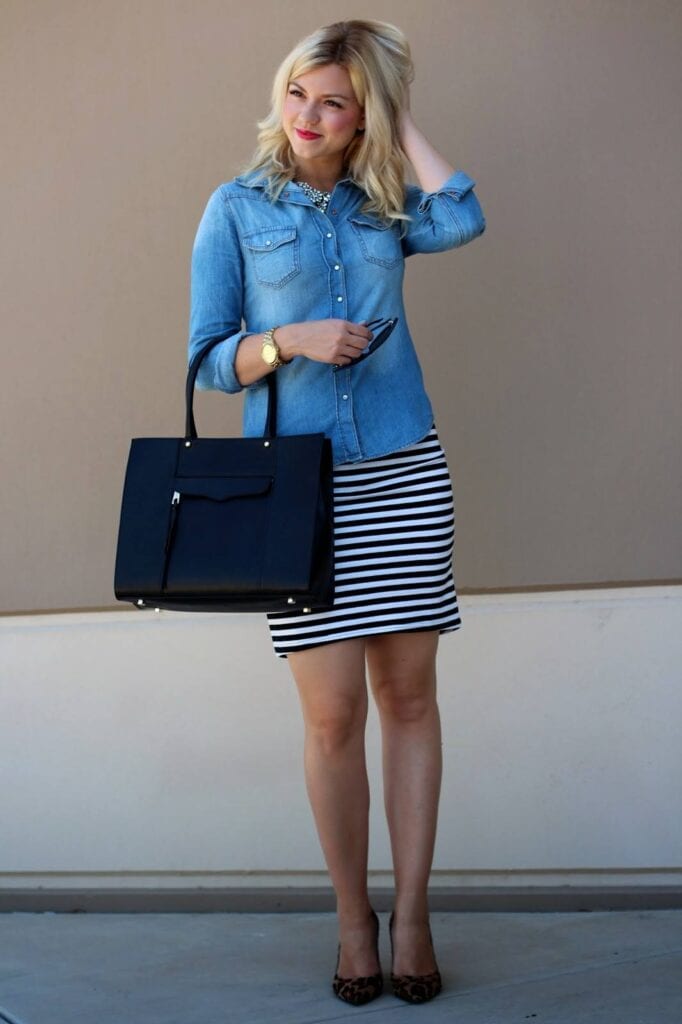 via
Casual Summer Skinnies Idea

You don't have to wear knee length skirts all year round. It is always a good idea to bring some change in your everyday dressing. For more casual look to school, you can wear a pair of skinny jeans with you favorite elegant top and match it up with a contrasting jewelry. Take a look at this woman rocking this look with wedges.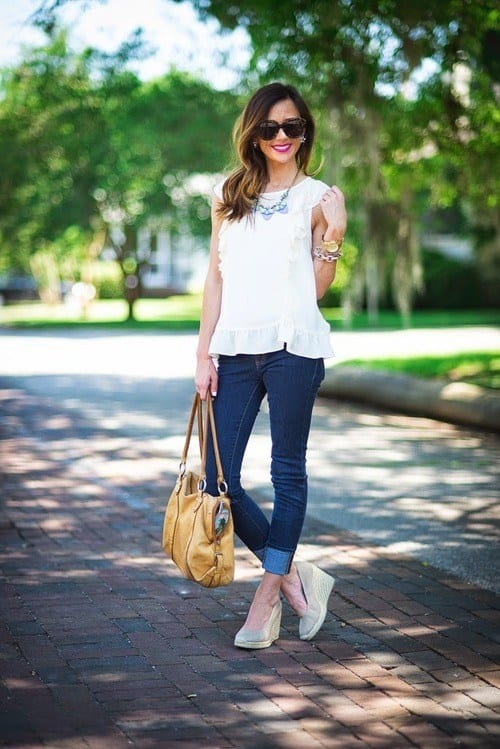 via
Light Outfit Style Idea with Boat Shoes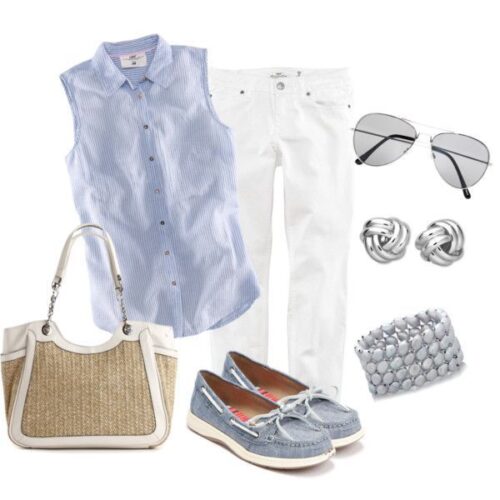 via
Subtle Pink Outfit Ideas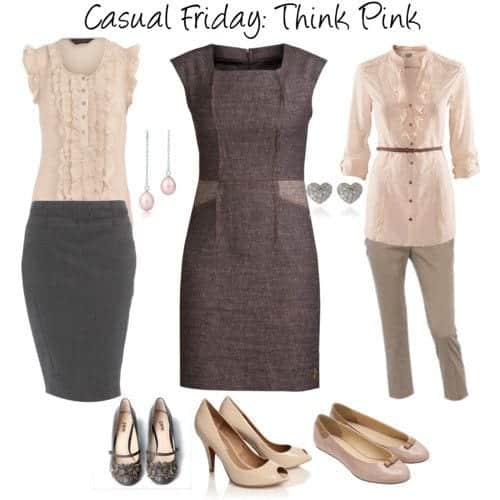 via
Flowing Pleated Skirt Ideas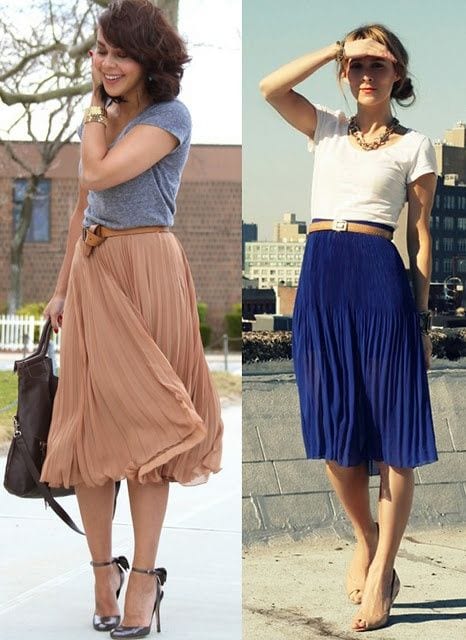 via
Summer Dress Outfit with Accessories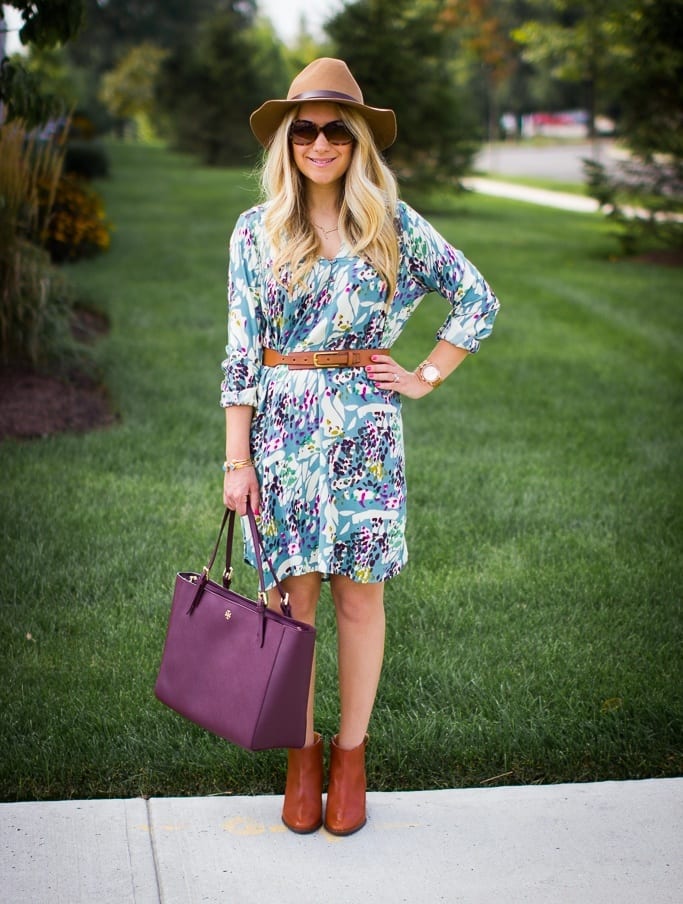 via
Polka dot top & Cardigan with Skirt – Ideal Dress for university teacher

via
Polka Dot Top with Skinny Jeans
Another option available for skinny jeans lovers is to pair your skinny jeans with a loose top, then tuck the top inside your jeans for a funky look. For example, you can go with pastel pink skinny jeans, along with a white loose shirt with black polka dots on it. Here are some more amazing Outfits with Jeans-50 Best Looks with Jeans You can Have Now
Do wear matching accessories with this outfit look to enhance its beauty.

via
Perfect Outfit for School teacher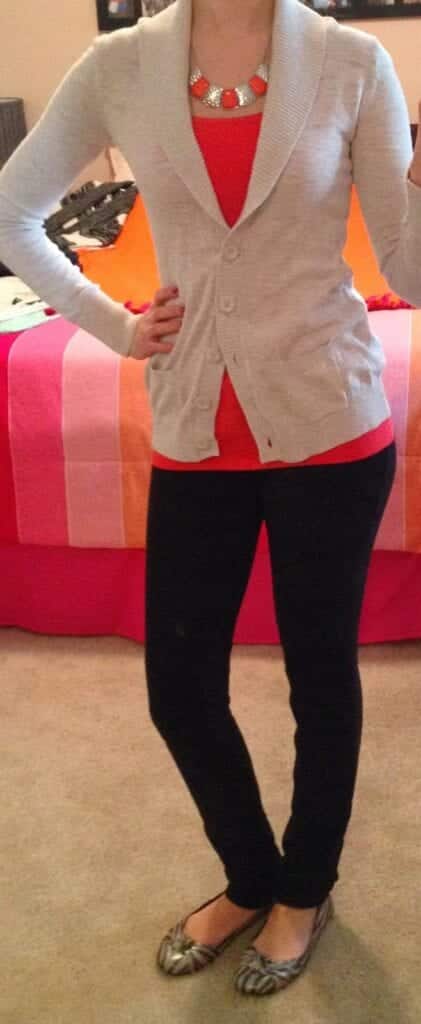 via
Summer Outfit Idea for Teacher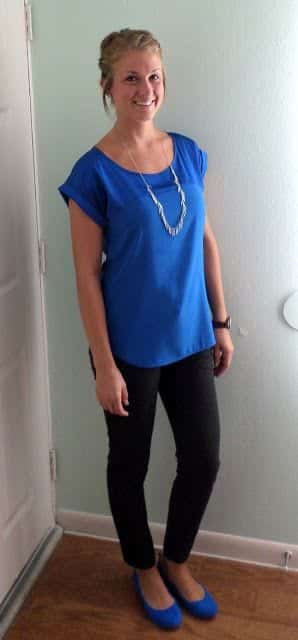 via
Plus Size teacher Dressing Combo
Some of the best teachers that you will meet in your high school or college are plus sized. To school, you can wear knee length skirt and a long sweater and wedges.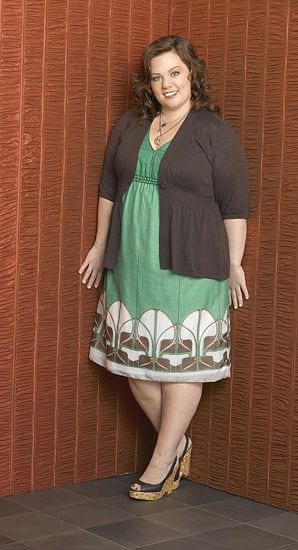 Outfit with Long Boots – Cute Professor Dressing style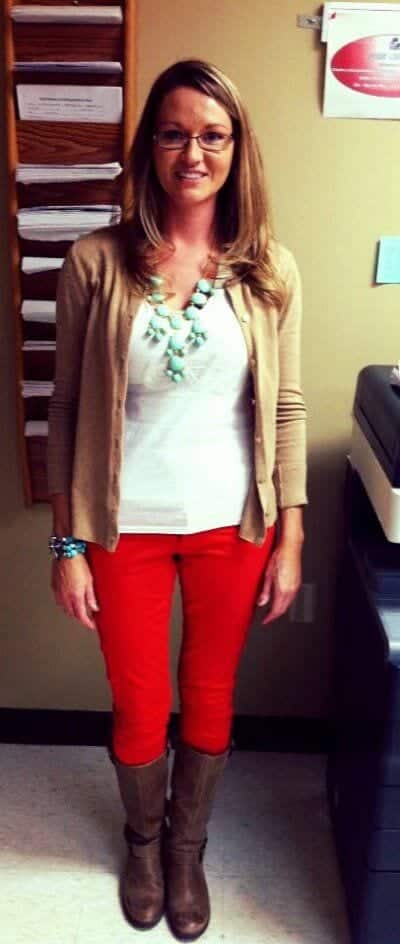 Spring Outfit Combo
The accessories and color combination makes this outfit a great choice for any functions you organize in your school.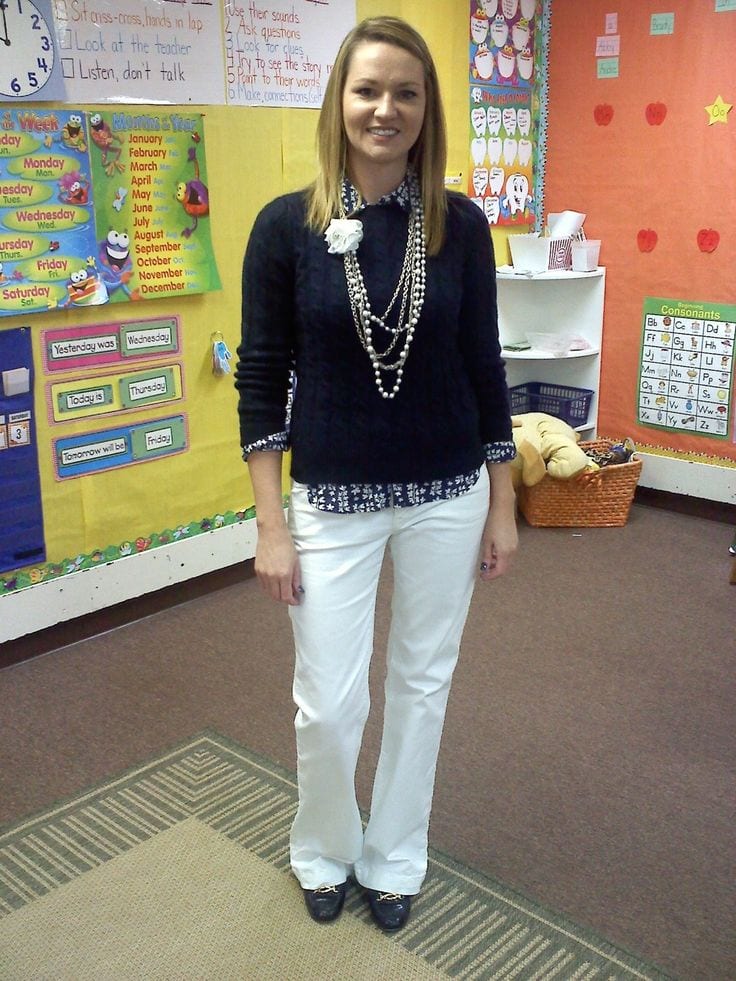 via
50 Stylish Back to School Outfits for Teachers You Will LOVE
7 Extra-Cute SF Teachers Share Their Back-To-School. - Refinery29
Back To School 2018 - First Day of School Outfits and Supplies
9-to-5 Dress Code: One Teacher s Back-to-School Style - Vogue
Back to School Outfits / Teacher Edition - Living in Yellow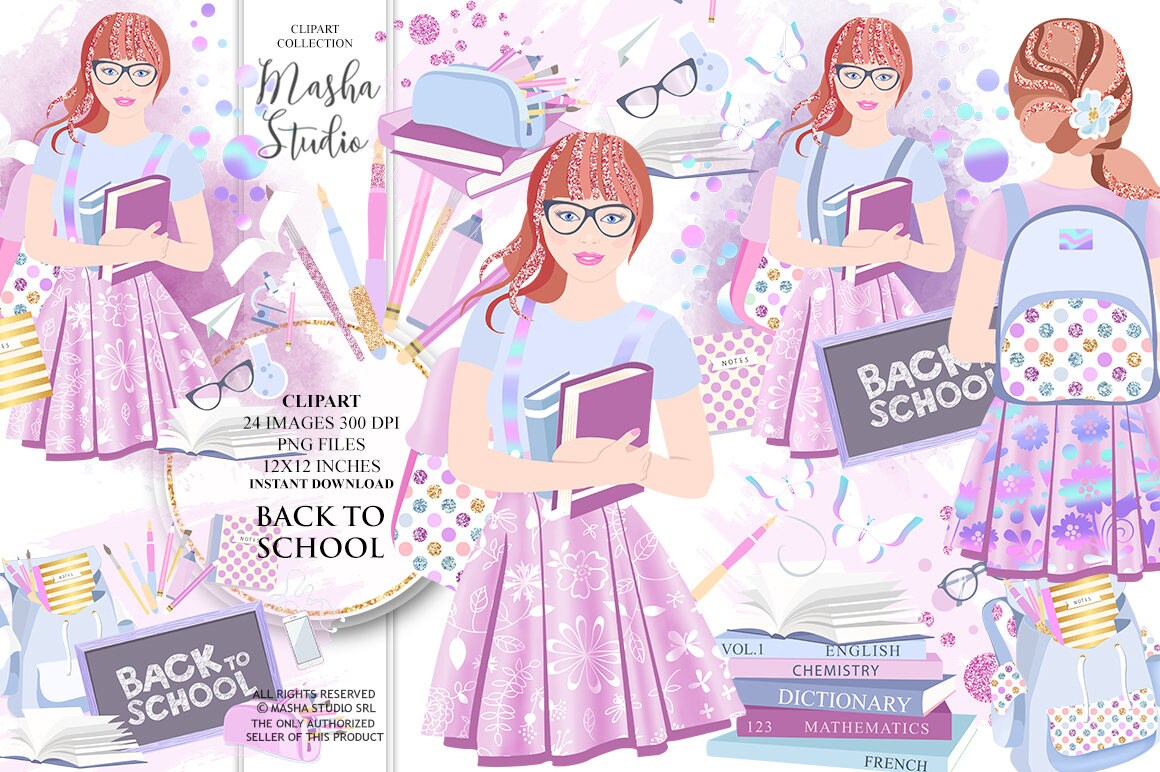 What to Wear to School: Our Favorite Teacher Fashion Blogs