Starting a Collection: How to Develop Your Fashion Designs
Many creatives just launch their products when they are ready, but creating and launching your products as a well thought out collection will save you a lot of time and money, will focus your creative energy, create more clarity and tells your story better (for yourself and your potential clients!), and will make marketing and selling a lot easier.
If you want to learn more about why creating a collection is so important and how to do it successfully, read this first blog post in this series about creating and launching your product collection first.
And if you want to learn how to launch a product collection then check out this epic blog post that explains how to launch your new product collection in 5 detailed steps.
Our Business Club members can watch here a one hour webinar recording on how to create a collection successfully.
So, how do successful designers, makers and artists create and launch their product collections?
We asked 7 of the UK's most successful creatives those questions! What is interesting is that despite these creatives working very differently, have very different markets and routes to market, they all have so much in common when it comes to creating and launching their collections.
Enjoy!
Sue Pryke, design consultant
www.suepryke.com
Sue started her career in the Potteries over 20 years ago as a designer at Wedgwood.
Since then she has worked with numerous retailers and manufacturers, such as M&S, John Lewis and IKEA designing & developing homeware collections.
Recently she launched her own homeware collection, with which she won the Homes & Gardens Designer Award 2014. To bring this range together she collaborated with small factories and studios in England working with traditional craftsmanship, materials and techniques to make high quality products made by hand.
Why is it important to create a collection?
Sue: 'Within a retail environment collections are developed to work across the store, so that the customer sees a cohesive and credible look that makes sense.
Whether the store are designing their own product ranges or buying in items, they will have an overall plan of what to buy and how it will be merchandised. By the repetition of similar themes across a store they are reinforcing the theme and enticing the customer to buy into it, making it desirable.
The 'advertising rule of 7' is used to its greatest potential in a store environment when the customer can see the message underpinned across all key products, which are merchandised in such a way to create a story, a lifestyle, a collection that can be easily bought into, thus providing a solution and complete offer in one place.
Scaled down to your own collection the same rules apply. The retailer needs collections to highlight the products' authority and it's harder to sell work in complete isolation without a reassuring collection in the same situ.
In terms of production, if you're a maker or manufacturer repetition is far more efficient, setting up to make a run of 100 mugs all exactly the same, for instance, is far more effective than changing each piece to become unique.'
Sue Pryke own collection 2013 – photo: Yeshen Venema
What makes a good collection?
Sue: 'In a collection items need to work at many levels; whether it's a vase, a cushion and a picture frame.
They need to sit well together and look like they belong, or were designed by the same hand or in the same theme.
They don't necessarily have to be made in the same material or be the same colour: if it's a beach theme, then washed denims, white washed wood, drift wood finishes, recycled glass, stone textures and colours will all work to suggest the beach theme and offer the cohesive message.'
For my own collection the focus is on the simple use of materials , simple curves and silhouettes. Classic shapes in traditional materials, crafted but with a contemporary verve.
With each material there are mini collections, so differing sizes of bowls to offer different price points, but also a small collection that sit together.'
What are your top 3 tips to launching a collection successfully?
'Tip 1. Consider the seasons and the market
Tip 2. Consult retailers
Tip 3. Plan a year ahead
Trade fairs are a clear indication of when the buyers are looking for new product, so make sure there is newness to offer the buyer at these events. Inviting your key buyers to look at your new collections at the trade fairs should be the main objective. Buyers have a keen eye for new product, they know the market well and are always looking for the next new thing to entice their customers into shop.
Even better, talk to your retailers in advance of the trade events to ask when they need new product.'
David Clarke, silversmith
www.misterclarke.wordpress.com
Maverick, humorist, risk-taker, David Clarke delights in shifting his approaches and priorities to shake up every assumption about the nature and value of vessels and he confesses a deep love of the discipline of silver.
Clarke is pivotal in the renaissance of contemporary British metalwork and shows his work globally.
'Creating a collection is a great use of time in my workshop.
Collections can be broken into smaller groups and sent to different countries and test new markets. Currently I am in the process of launching the 'Blow!' collection, which is already showing in New York and London and scheduled for Bangkok, Tokyo, Shanghai, Germany and Denmark later this year.
This creates a strong story to promote new work to the public, collections and existing clients.
A new collection re-establishes your position within your discipline.
I am very fortunate that my collections can position themselves in a design, craft or art context – this I play with and exploit.'
What makes a good collection?
David: 'For me it needs to connect with the audience.
The work should bring in a challenge for the client and question the field of silversmithing. It opens up discussion and debate. It must make a strong statement; visually as well as intellectually.
Remember the client is buying into your creative thinking as well as the end object.'
David Clarke – BLOW
What are your top tips to launching a collection?
David: 'Communication is essential. Please make sure you tell your story to as many people as possible. You do not know where the next email, phone call or potential client is coming from.
So spend time with the work, build a strong story around the ideas and thinking around the work. This is your selling tool.
Good images are a priority and an absolute must. Images are what the public will see first. Magazines, blogs, press and media want good images – feed them what they want. The 'Blow!' Collection was posted on Facebook and selling before the pieces were finished!
I try to launch a new collection at Design Miami every year as there is a mass of international press and clients. Make sure the gallery, blog or show has all the relevant information to assist them in selling and this includes you updating your own website/blog. There is nothing worse than an out-of-date website.
Rachael Taylor, Founder, owner & designer at Rachael Taylor
www.rachaeltaylordesigns.co.uk and www.makeitindesign.com/design-school/
Rachael Taylor is a fun and energetic surface pattern designer and illustrator who creates 'patterns to make you happy'!
Since graduating from university in 2005, Rachael has been lucky enough to work for a number of prestigious clients worldwide.
Rachael also runs her own design label along with successfully licensing a number of global branded collections. Her designs feature on fashion, home decors, greetings, gadgets and ceramics.
She is also co-founder of the groundbreaking e-course called The Art and Business of Surface Pattern Design in which she teaches and shares her expertise and knowledge in surface pattern design. The success of the e-course lead the brand new ventures, Make it in Design, MOYO Magazine and The MOYO Directory.
In addition Rachael is the sole author and designer for 20 Ways to Draw a Doodle and 44 Other Zigzags, Hearts, Spirals, and Teardrops: A Sketchbook for Artists, Designers, and Doodlers
with Quarry Books. Rachael is also regularly hired to deliver seminars at lectures around the UK & USA.
Why is creating a collection so important?
Rachael: 'Creating a collection has more impact than producing a single design or product.
A buyer or client tends to like having more choice such as a range of designs to choose from within the same product area or a group of designs that are part of a collection. They may also wish to purchase coordinating products e.g. tea towels and aprons. I always think the more pieces showcased from a collection in a shop makes for a much stronger impact, as the customers are more likely to notice you.
This also shows how versatile your designs are, developing your brand potential and longevity as a designer.'
Rachael Taylor lampshade collection
What makes a good collection?
Rachael: 'Personally I like a collection to not have too many matching elements. If you look at my 'Origin' and 'Signature' collections for example, the designs are spontaneous and do not obviously go together, they just complement each other.
I like that it is the more subtle elements such as my own layered, textured style and use of colour that brings each collection together. I usually describe it as a formula that threads the pieces together.
I think it is important for a collection to show your own style and personality, as originality is a huge selling point. Buyers, shops and potential clients are always looking for something they haven't seen before so if you offer something unique it will grab their attention.
A good example of this is how different my trade show stands tend to look when exhibiting, compared to the other stands. At Top Drawer and Home London I consistently receive comments on how different the stand is and how much it stands out through my use of colour and design of the stand. It is important to make an impact with your collections.
Rachael Taylor Designs stand at Home London 2013
Rachael Taylor's top 3 tips to launching a collection:
'Tip 1: Show your style It is your personal style that will make your collection different and unique and this is a huge selling point.
2: Use an event or show as a launch pad Trade shows are a great platform for you to launch new products. Buyers will be looking for something new and maybe even exclusive, something that hasn't been shown online or at another show before.
3: PR! You will really have to promote your collections well to get it off the ground. As well as the usual social media platforms such as Facebook, Twitter and even Instagram, having amazing product photography is essential. You can use it to create flyers and banners for both online and on paper. At Home London I even had my photography printed on a huge canvas to help decorate the stand and showcase my tea towel collections at their best.'
Sarah Hamilton, artist & designer
www.sarahhamiltonprints.com
Sarah's joyful, fresh and contemporary designs are stocked by numerous stores and galleries. Exhibiting often, she regularly works to commission, and is an experienced freelancer/ design consultant to textile manufacturers.
Sarah Hamilton cards
Why is creating a collection important?
Sarah: 'From my experience of selling to retailers including Heals, The Conran Shop and Paperchase, buyers choose products which compliment other stock in their store. Your small collection becomes part of their big collection. As a designer/supplier, you'll need to convince them you have the skill, vision and willingness to work within their overall aesthetic.
Retailers need to offer choices. When did you last go into a store and see just one item in a range? Products are much more seductive in clusters and often customers will buy a pair, or more. Some designs, within a range, will sell much better than others, and a collection allows for the fact that buying isn't an exact science, even for the most experienced retailer.
Logistically, once you've done your homework, a collection will prove more cost effective; unit costs go down the more you order in raw materials or from a manufacturer.
It's vital to determine how many outlets a store has. Remember many retailers also have stores abroad and could be buying for hundreds of shops. You'll either be absolutely delighted or utterly horrified about the scale of the order depending on whether you've taken this into account!'
Sarah Hamilton wood blocks
What makes a good collection?
Sarah: 'Colour is extremely important. Some colours sell much better than others and are associated with rooms and seasons. You may be desperate to revolutionise the High Street, but (especially in this tight economic climate) buyers have to be cautious. It's their job on the line as much as yours.
Retailers need to appeal to the widest range of customers so ensure you get the message across that you're willing and able to adapt the range to the buyers' overall vision of the store. They may adore your vases, the shape, finish, packaging, price, but the drawing of your puppy is far too personal and you'll need to compromise.
Trade fairs are timed to coincide with buying seasons. Even if you're not exhibiting keep an eye on them as they are a good indication of what's happening in the retail world. I recently received a large order from a buyer just before a big trade event. She admitted she found trade fairs rather soulless. They were in buying mode, and just as you are swamped by the enormity of choice at trade fairs, so are buyers!
My most recent collection of mugs launched at East London Design Show, a consumer retail show, just before Christmas. I sent an invite/newsletter with images to my mailing list and used the show to determine the most popular designs. I'm now in the process of developing and photographing a larger range with the aim of sending these out to galleries and shops which buy my other work.'
Kate Jones, Director of Gillies Jones
www.gilliesjonesglass.co.uk
Stephen Gillies & Kate Jones – photo: Tony Bartholomew
Stephen Gillies and Kate Jones of Gillies Jones are makers of finely crafted blown and engraved contemporary glass, found in numerous museum collections including the V&A.
Over the last twenty years Jones has explored the blown glass vessel as a container of more than space and substance, through marking the surface of the blank forms made by Gillies.
What makes a good collection?
'A good collection is a coherent visual statement. It sets out your stall.
It will make you and your work instantly recognisable and indeed it reinforces your 'brand' identity.
It's efficient too, as launching your product and placing it in front of the right buyers can be costly.'
What makes a good display?
'Firstly the work has to be good, desirable and you have to enjoy making it.
'When the magic has gone it is just merchandise'.
I can't remember who said that, but it's so true and people sense it.'
Gillies Jones – Landscape Study Blue Over yellow
Gillies Jones' top tips to launching a collection:
'The art to launching anything is to let people know about it. Especially people with a particular mindset, who are likely to connect with your product. These include the press as well as your potential retailers and customers.
There are so many avenues to get work to market these days and so many ways in which technology can help you do this. Some cost a fortune in upfront costs, and others cost you in time and can be an enormous emotional effort!
Are you looking for larger retailers? Smaller independent retailers? Specialist craft galleries? Or are you looking to retail directly or through online retailers?
The key thing is to understand who your likely customer is and work backwards from there, and then select how and where to launch your work.
Do your research and have all the support material ready. Print media is still useful in this context.
Whoever your customer is, take the time to work it out and make a plan.
Your timing is key as the larger retailers buy in the summer, the smaller galleries towards the autumn.
Create some thinking time where you can plan how to spend your time and money wisely in order to generate sales and income.
Word to the wise: 'Prestige is great, but you can't eat it.'
So make sure the foundations of your making is built on a solid understanding of your numbers, margins and ability to sell.'
Gillies Jones – Red, yellow & orange bowls
About Gillies Jones' Beautiful Bowls
'We make bowls, 'Beautiful Bowls' and just about 10 years ago (due to a turn of events beyond our control, but that's a long story) we dropped most of our other production designs and focused on making the bowls. These pieces have become our signature production pieces and we now work with specialist retailers to design colour combos and patterns exclusively for them, most recently Blackwell House. Every now and then we make a limited edition design, which is released to our studio mailing list.
This works well for us as people are collecting the small bowls. This was in part thanks to a our bowls being shown in 2011 at the Antiques Roadshow.
This tight and coherent collection of production pieces enables us to have the time and money to successfully work in another world: making ambitious art pieces for galleries and museum collections.'
Ali Miller, artist & designer
www.alimiller.co.uk
Ali Miller London is a British home ware brand that specialises in fine bone china tea sets with a whimsical and unique touch.
Why is creating a collection important?
Ali: 'When I began my business, my vision was to have a complete lifestyle brand, with a wide range of products. However at the start my collection was so expansive that it was difficult to manage and confusing for customers!
Over time I have carefully narrowed my collection down into a core range that forms the basis of my business.
However I still think having a collection is important, as it is the best way to convey your brand vision and narrative.
I also find that it helps build a relationship with customers, as many of my customers continue to buy pieces from my collections over time.'
What makes a good collection?
Ali: 'I think the best collections are ones which are well-edited. They are clean, concise and not too fussy or with too many choices.
I've found around 3-6 different ceramic pieces in the same design makes the biggest impact, and means that all the products work individually but also look perfect together.'
Ali Miller's top tips to creating & launching a successful collection:
Ali: 'I've found that timing is key for launching a new product. I would recommend late summer or early September as the best time, as you have London Design Week and this also gives you enough time to build up to Christmas.
Brand awareness is also very important for me. Making sure my products are visible and 'out there' is a big focus in my marketing efforts. I find social media great for this, as not only is it cheap and easy, but it has also helped me build on my connection with customers.
It is also a good idea to know who your target market is. Knowing which section of the market I am aiming for has helped me focus my efforts and decide how best to present my work.
I have had to make decisions about my brand image, what my packaging and website will look like, and what shops I want to be stocked with. Keeping my target market in mind has given me a lot of clarity.'
Ali Miller London – Home Sweet Home range
About her own range Home Sweet Home:
Ali: 'My most popular collection is the Home Sweet Home range. I was very fortunate to have the teapot and teacups & saucers from this range featured on BBC's TV-series Sherlock. Due to high demand I was able to expand the range to include milk jugs and sugar pots.
The starting point for this range was a vintage UK & Ireland weather map. All of my designs begin as original artworks which are then hand applied onto fine bone china in Stoke on Trent.
This collection really captures the quintessentially British aspects of my work, and adds a quirky twist to classic design.
Dominic Crinson, designer
www.crinson.com
Dominic is a British designer of tiles, based in Australia, who has become internationally recognised for his extravagant design style. Delicate yet bold, contemporary whilst embracing tradition, he creates wall tiles that enrich spaces with their kaleidoscopic prints, evocative colour and bold imagery.
Why is a collection important?
Dominic: 'A collection helps define your work as yours, it shows consistency and most importantly it helps you to focus your thoughts on your ideas and the direction that you want to take for a month of the year.
I have brought out 19 collections over 17 years. The most popular have almost always been those that have clearly defined my style. Interestingly the less popular ones are those that have been more mainstream and less courageous.
I'm recognised for my extravagant design style, delicate yet bold, contemporary yet embracing tradition. With other designers subtlety might come into play more so it's more about nurturing your style and encompassing an audience/customer base around that.'
Dominic Crinson – Alchemy collection
Dominic Crinson's top tips to launching a collection:
'Timing is crucial when launching a new collection. You need to pick a time when you will gain maximum publicity, such as just before a trade show. With your blog posts, newsletters and social media aim to get them seen at the beginning of the week as readers are much more likely to look at them then.
Preparation: do not launch as soon as the designs are ready. Get some critical feedback and if necessary rework the collection. Prepare your publicity.
Get some great product shots – you will want your designs to look their best!'
About his latest collection of Alchemy wallpapers in Melbourne:
'This latest collection of designs was launched first as wallpapers then later as tiles. I wanted to make a collection that reflected my drawing style and my taste for time worn surfaces. The surfaces are rich in form and this series more than any other seems to epitomise my style.'
Facebook
StumbleUpon
Twitter
Reddit
Tumblr
Digg
How to create a fashion collection in easy steps - Fashion Teaching
How to create launch a collection successfully - expert tips by 7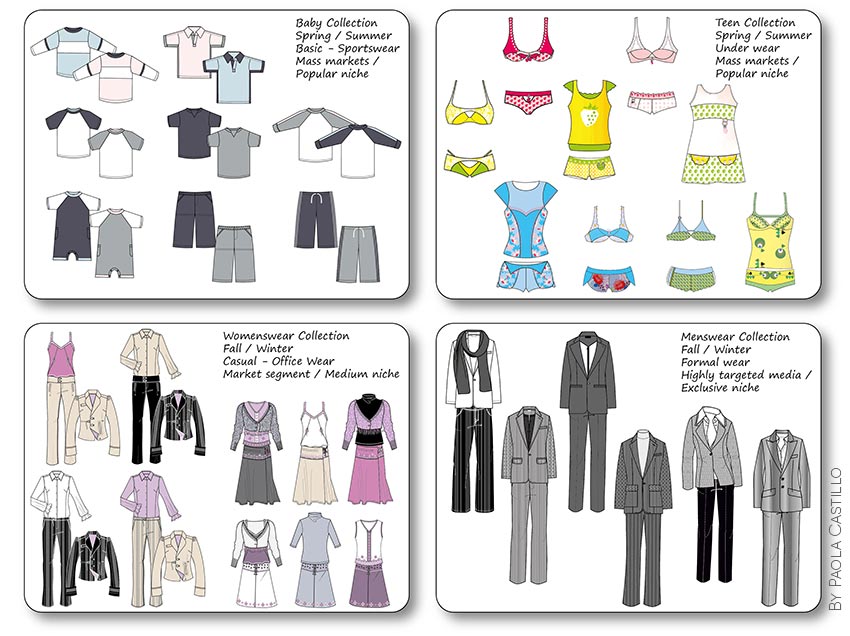 Creating a cohesive collection - Fashion Design - Martel Fashion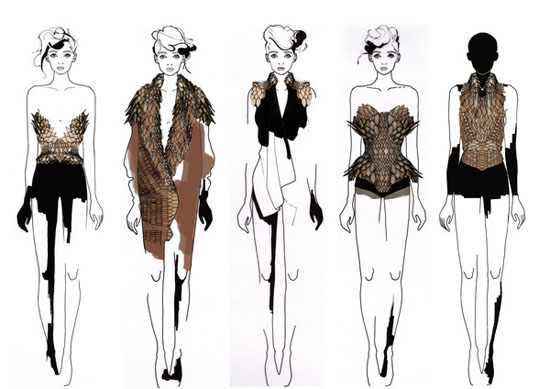 Developing a Fashion Collection (Basics Fashion Design) Elinor
Designer Shares Tips for Creating Your Own Fashion Design
Your first collection - The Fashion Darling