Latest indian wedding fashion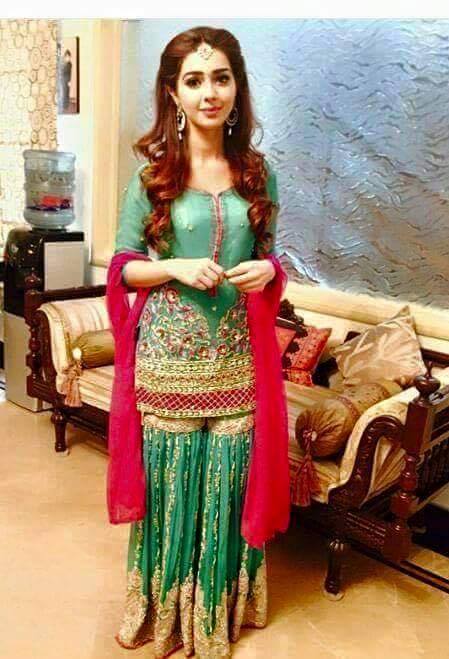 Today we are featuring a guest blog pot by Laxmi Lobo, who is a Singapore trained floral designer. She is now a retail florist in Mumbai and specializes in flower delivery in Mumbai. Her online bouquet delivery in Mumbai has won accolades from the press and has interviewed on TV for CNBC & ET NOW. Visit Spring Blossoms to know more about Flower Delivery In Mumbai.
A wedding is a couple's first party that they throw together.
These days, I am finding that many couples are involved with their wedding planning and not just leaving the planning in the hands of professionals or friends and relatives. The bridge and the groom feel immense joy in taking the first 'as a couple' steps together while planning their own wedding.
As a florist I often get questions as to how can we make this party, this celebratory dinner or small reception more personalized?
I have curated below some interesting ideas which are easily a DIY or most eminently doable with the help of friends or the bridal party.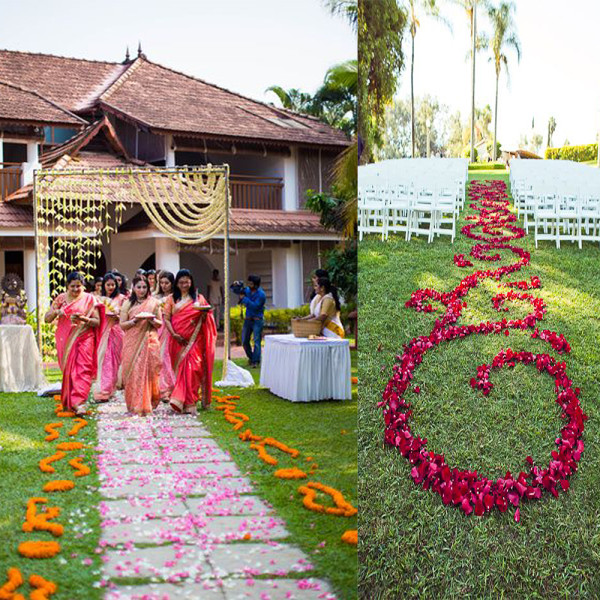 Courtesy: Laxmi Lobo
This picture gives you three ideas in one. The elegant yet simple backdrop is an easy to make frame of bamboo with fragrant hand strung garlands of jasmine or any other fragrant flowers. You can use bright flowers too and change the look. The contrast of the vintage Kerala (India) home make this particular style come alive, but you can adapt the backdrop to your setting, whether in a garden, whether rustic or inside a large reception room. The tiled pathway is scattered with rose petals and lined with bright marigold hand strung garlands. These garlands contrast beautifully with the lush green grass and marigold has the property of keeping insects away too. Do remember this in a garden setting. Some may want to use passion red rose petals on an aisle between the chairs.

Courtesy: Laxmi Lobo

Planning of your wedding happens a few months before. An interesting way for a couple to bond is to have a personal centrepiece at their wedding party. For some months, the couple can gather all the wine and champagne corks they drink, sharing their joy with friends and family as they get closer to their wedding date. These corks can then be the basis of a centrepiece like below. Any kind of fresh flowers can be added using a floral sponge on top of the vase. I would also suggest some lovely photo frames around the vase, these will capture the joyous moments shared while e drinking the wines. A table like this creates a very special talking centrepiece at any wedding party.

Courtesy: Laxmi Lobo

If your wedding party is in the open and has a thick luscious garden hedge as part of the entranceway to the reception or party area, here is a stunning way to brighten the walkway. Bright and colourful umbrellas tied onto the hedge. A simple idea, but will be surely talked about many months after your wedding.

Courtesy: Laxmi Lobo

Vintage tea cups on a vintage wall. Another visually delightful decor idea. Coloured Hydrangea will fill a teacup. Buy as many colours of Hydrangeas from your florist and borrow and buy as many tea cups as you can. Garage sales are a good idea for tea cups. And if all else fails, get white tea cups from the wholesalers who supply to hotels.

Courtesy: Laxmi Lobo

If you and your partner are biking enthusiasts nothing could be a better idea than bicycle wheels decorated with flowers. This has been mounted on a wrought iron stand. You could let your imagination run wild, hang then from tree branches if it's a garden setting. Maybe from some hooks in a ceiling or even mount them against a wall. I find the contrast of this idea very appealing. The softness of the delicately coloured peach flowers with the ruggedness of a bicycle wheel is like the strong and steady with the whimsical. It's what a marriage is, isn't it?

Courtesy: Laxmi Lobo

Here's another interesting and very easy to make backdrop. You can also use the same theme for the chair backs and make the wedding reception area look summer and colourful. It will work wonders in an outdoor setting because the white of the tree bark contrast with these colourful ribbons. The greenery that surrounds us in a garden setting brings out the colour of this unusual idea which hardly uses any flowers. You can add little bunches of flowers as you go along and make the look even brighter.

Courtesy: Laxmi Lobo

One of my favourites for an evening party is candle lamps hung from the trees. These lamps which look like the vintage carriage lamps are a good investment even if they are a little expensive. You can always use these many times over even making a corner of your apartment (if you do not have a home right away) come alive. I have even used these lamps as a backdrop hanging from an ancient banyan tree for an evening reception. Hang them in different lengths and use good quality rope.
I hope you've enjoyed my curated ideas from various wedding parties. Adding your own ideas to these will give much pleasure as you plan the most important day in your life, your wedding.
Follow Laxmi Lobo and Spring Flowers on: Facebook, Instagram, Google Plus, and Pinterest
Indian Wedding Sarees: Indian Dresses, Ethnic Clothing
Indian Fashion Blog, Magazine - Latest Fashion Tips & Trends
Indian Wedding Dresses: Buy Latest Indian Wedding Dresses
Indo western clothes, sarees,Lengha, Salwaars,jewelries
Latest Indian Dresses and Accessories. - Utsav Fashion
Indian Sarees Online, Designer Salwar Kameez Shopping