Prince Fashion - Tailor-M Hong Kong s Largest Tailor Platform
Since colonial times Hong Kong is famed for quality tailor-made shirts and suits for reasonable prices. Local business men spend their lunch breaks to argue who's their favorite tailor, where to buy the best suits and who is the best tailor in town. Similar to horse racing, insider tips are treated as a hot tip in a soaring stock-market and is highly appreciated. The legacy of colonialism plus the thriving demand from the financial and business sector makes Hong Kong a very competitive place to purchase tailor-made suits.
The reputations of Hong Kong's tailors are well-known around the world and some of my friends just arrange a stop-over in Hong Kong for a few days to pick-up some tailor-made shirts or suits.
Some people might find the whole process of choosing fabrics (Italian or Egypt), buttons, collars, etc. a little bit intimidating. So if it is your first time to purchase a tailor-made suit, be sure to read the following tips, advice and insights on how to buy a tailor-made shirt/suit in Hong Kong.
Some basic advice when buying a tailor-made suit in Hong Kong
1. Take your time to choose your tailor
The garment market and textile industry is a huge factor in Hong Kong's economy. I don't know how many tailors are out there, but you will have no difficult to find a tailor in the streets, shopping malls and high-end shopping arcades. There are even complete "districts" of tailors in Hong Kong – just like an armada or army waiting for you to give them business.
Especially around the tourist hotspots (Star Ferry Terminal in TST, Entrance of Harbour City Mall, Chung King Mansion, etc.), you will encounter many sales persons on the streets approaching you with business cards and the words like "Wanna tailor-made suits?"etc.
As a customer, I went with some of them to their shops and had some kind of consultation about their services. Personally, I didn't feel comfortable. The sales style has been very aggressive and the selection of fabrics didn't even come close to what I expected. To make it short, I would not recommend to follow these people due to the fact that there is not only a big downside potential of being disappointed with the quality of the product and service, but also the basic fact that there is a potential of being ripped-off.
At the end of the day, the most important advice is: Take your time and look around – especially if it is your first time purchasing a tailor-made product – and choose your tailor carefully. Choosing a tailor is a little bit like choosing a bank you trust. Maybe you have some colleagues, friends or relatives who have already some experience and can refer you to reputable tailors. Sometimes asking the concierge in your hotel is not a bad option too.
2. Know how to bargain
You will stumble upon this advice over and over again – especially here in Hong Kong. As mentioned above, Hong Kong has an armada of tailors and they are desperate for business. No matter if it is only one single shirt you want to be tailor-made or a batch of suits, pants and shirts. Be prepared to haggle and bargain and be aware that you face professional (!) negotiators. Before you even say a word they usually can judge which country or area you are coming from and adjust their pricing strategy accordingly within seconds. Take advantage and look for bonuses, deals and discounts. Basic deals include free shipping to your home country, free ties or discounts if you take 3 or more shirts or if you buy 2 suits etc.
3. Know what you would like to purchase
Especially, if it is your first time purchasing a tailor-made product, you might find it difficult or even being a little bit intimidated by facing all these questions about buttons, collars, fabrics, cuttings and styles. Prepare and flip through some of the recent fashion magazines such as GQ, FHM, MensHealth or take a look at the leading luxury brands such as Armani, Hugo Boss or Valentino etc. to get an idea what you would like to have.
Furthermore, make yourself familiar with the basic choices of materials (wool, cotton, linen, flannel, polyester, etc.) and their advantages and disadvantages. Think about where and how you will wear your shirts and suits. Do you need to travel a lot (certain materials will wrinkle more than others)? Do you stay in office a lot? Do you work in a standing position and need to grab stuff from a shelf above (shirts need to be adjusted at the back for length)?
It's not a bad idea to take the magazine with you to the tailor or if you already have a suit/shirt you love take this as a sample. In addition, ask your girlfriend or wife to be a mentor with the latest fashion.
4. Take your time for additional fittings
Many tailors advertise that they are able to make a tailor-made suit in less than 24 hours. Some even promise to do it in 12 hours or less. But quite frankly speaking, speed does not equal to quality. I won't say it is impossible to get a well-made tailor-made suit made within 24 hours, but either you have luck or you pay an additional surcharge on it. Be prepared for at least 2-3 fittings. For a suit I would recommend even 3-4 fittings. Saying this means that you should plan your stay accordingly (at least for 3 days) in Hong Kong. The tailors are quite flexible with their working hours. It's not a problem to stop by before or after a sightseeing day in Hong Kong.
Some advice what to look for while you do the fitting: Take a close look at the stitching. Is it done in a smooth way? Are the lengths of the sleeves/legs the same? How are the buttons placed? Do they match with the holes on the other sides? How are the shoulders? Do they fit perfectly or are they too wide or too tight?
Each alteration will take their time and you should be aware that for a good suit, dress or shirt you do need this time. Sometimes when the length of the sleeves or the width of the waist does not fit you due to the mistake of the tailors, they will try to persuade you to accept it or even tell you it is the right size you asked. Be sure to ask them to measure the shirt in front of you again and insist on your opinion and feeling.
5. The question to ship your tailor-made suit or not
Many tailors offer you worldwide free shipping of your tailor-made shirts, dresses and/or suits. At first sight this sounds like a nice bonus. With airline restrictions on luggage and high posting fees it seems to be a no-brainer. But on the other side, be sure to check your customs policies. There have been cases where customers have to pay a high import tax (especial in European countries). Certainly, you can negotiate these cases with the tailor to get a "tax-refund" or "tax-discount". Also there have been cases where customers ended up with other products in their home country than they actual ordered and paid for. Saying this, – unless you know and trust your tailor – I would recommend you to pick up your suit in person. Several tailors have oversea offices and shops (many in the UK). To pick up your tailor-made shirts in one of the shops overseas might be an option. So double-check if this is an option for you.
Where to buy tailor-made shirts, suits and dresses?
Like mentioned above, there is a wide range of tailors in Hong Kong from backstreets shops to stores in five-star hotels. In the following we try to provide you a short list of the most famous and bespoke tailors which combine value for money and service attitude in Hong Kong. The list is by no-means complete nor does it reflect a ranking. One last word: most of the tailors are at the upper range of the pricing scale and there are chances that you will have options to get your suit done for less.
[Go Back to Top]
Hong Kong Tailors on Kowloon Side
Punjab House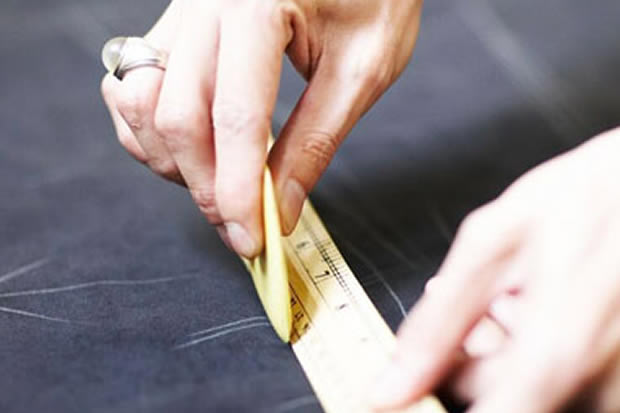 Punjab House
(Photo Source: Punjab House Hong Kong)
Established in 1889, the Punjab House is conveniently located in Tsim Sha Tsui (Kowloon) and has over 100 years of experience in the tailoring industry. They have been tailors for the British Military and Royal Navy. Nowadays many diplomatic houses, prestigious clubs as well as corporate companies use their tailor-made services. The company is still run by members of the founding family – which can be seen in their friendly and exceptional style of service and attitudes towards customers.
From my own experience I can say that the whole process of choosing the right fabrics to fitting is done at the most professional way. The showroom is quite big and luxury (keep in mind Hong Kong rents are astronomical high). The stock list of world famous fabrics and cloth includes the famous names such as Ermenegildo Zegna, valentine garavani, Holland&Sherry, Scabal, Loro Piana, Giorgio Vallino, Charles Clayton, Dormeuil, Wain Shiell, John Cooper and many more. Besides offering tailor bespoke shirts, customers can choose from overcoats, smoking jackets, summer jackets, morning coats, dinner jackets, etc. The shirts and suits don't come in cheap, but the quality and craftsmanship is superb. I don't know how many laundry and washing cycles my shirts have gone through…they are still in excellent conditions. For all of you who worry about aftersales service and alterations: the Punjab House offers a 3 month warranty policy. Within this period all alterations are free of charge.
Furthermore, the Punjab House has a branch in London (U.K.) called the Apsley Tailors (http://www.apsleytailors.com/). For all of you who love soccer: the English Football Premiere League club West Ham United chose and uses the London branch as their official tailor for the season 2010/2011. For the season 2011/2012 Apsley Tailors are the official tailors for the Fulham Football Club.
General Info and Details

Address: Shop G&H, G/F, Burlington House, 90-94 Nathan Road, Tsim Sha Tsui, Kowloon, Hong Kong (Tsim Sha Tsui Station Exit B1)


Business Hour:  09:00am – 09:00pm (Mon-Sat) / 10:00am – 07:00pm (Sun)


Phone:  +(852) 2366 6612 / +(852) 2368 8625
[Go Back to Top]
Raja Fashions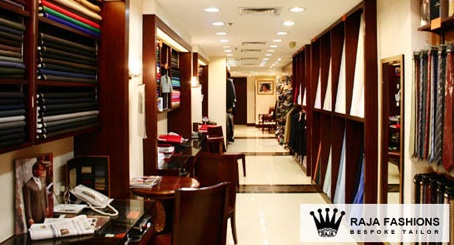 Raja Fashions
(Photo Source: Raja Fashions Hong Kong)
The "King" (Raja means King in Hindi) established his business in 1957 and is one of the most famous tailors in Hong Kong. Articles and reviews in newspapers, business and fashion magazines made Raja Fashions world famous (e.g. South China Morning Post, Financial Times, BBC, CNN, New York Times, Guardian Unlimited, GQ, etc.).
One big advantage of Raja Fashions is the wide selection of fabrics. Raja Fashions stocks about 20,000 different fabrics and cloths, which should be enough to suit every woman's and man's need. Only a few bespoke tailors offer such a wide variety and selection right on the spot in Hong Kong. Since the Hong Kong handover in 1997, Raja Fashions took a new approach to the tailoring business. By taking advantage of the internet (simply take your measurements and send a photograph to Raja Fashions) as well as the practice of traveling worldwide to visit his customers resulted in a tremendous boost of his business. Raja regularly tours through North America (USA and Canada) and Europe (Belgium, Germany, The Netherlands, Switzerland, Ireland and UK).
His price seems to be more competitive than his competitors, which does not mean that he sacrifices quality and service. Many expats and colleagues highly recommend his shirts. On the other side there have been some unhappy customers as well.
General Info and Details

Address: 34-C Cameron Road, G/F, Tsim Sha Tsui, Kowloon, Hong Kong (Tsim Sha Tsui MTR Exit B2)


Business Hour:  09:00am – 09:00pm (Mon-Sat) / 10:00am – 06:00pm (Sun)


Phone:  +(852) 2366 7624
[Go Back to Top]
Empire International Tailors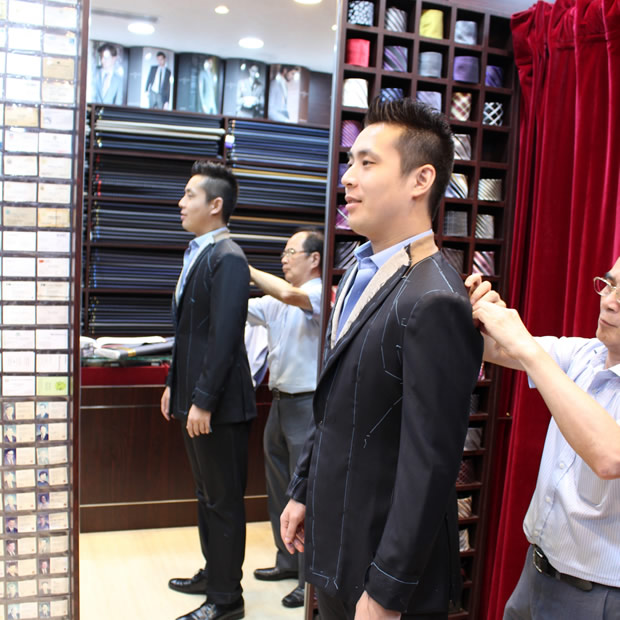 Empire International Tailors
Wanna getting some exceptional quality tailor-made suits done, Empire International Tailors may be the right place for you.
Established in 1983 and run by Anthony Asaf and his family, Empire International Tailors build their success and reputation not only on their more than 30 years of experience in tailoring, but also the word-of-mouth references of happy customers. NY Times, Reuters, NBC and Bloomberg put Empire International Tailors on their recommendation lists. They are expected to receive Hong Kong's Most Valuable Company Award 2015 due to their excellent customer service.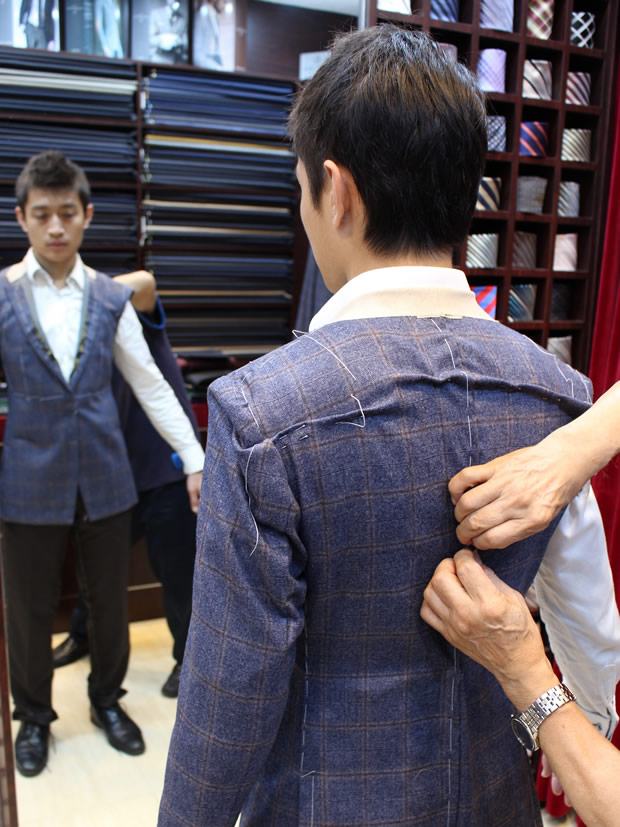 Empire International Tailors
Like all other tailors, prices of tailor-made shirts or suits strictly depend on the quality of cloth and fabric you select. However, you don't need to worry. Empire International Tailors offers special deals and promotions. At the moment you are able to get a tailor-made suit for as low as US$ 599 and tailor-made shirts starting at US$ 50. In case you visit them make sure to ask for special package and promotion deals.
Prepare that a good suit will take time to tailor. Empire International Tailors requests a minimum of 3 days to make the suit and you should allow at least 2 fittings to assure that your new suit or shirt will fit properly.
General Info and Details

Address: Shop No. 6, Ground Floor, Houston Centre, 63 Mody Road, Tsim Sha Tsui, Kowloon, Hong Kong


Business Hour:  10:00 am – 9:00 pm (Monday – Saturday) /10:00 am – 5:00 pm (Sundays)


Phone:  +(852) 2723 2673


Email: 


Website:  http://www.empiretailors.com/
Map and Location of Empire International Tailors:
[Go Back to Top]
Other Tailors in Mody Road:
If you are already in Mody Road you can have a look at several others tailors such as:
–Regal Fashions (Shop No 15, Ground Floor, Houston Center, 63 Mody Road, TST, phone +(852) 2367 6007)
–Nita Fashions (Peninsula Apartments, Ground Floor, 16 Mody Rd, Tsim Sha Tsui, Hong Kong, phone +(852) 2721 9990)
–OM Custom Tailors(Shop LG56, Lower Ground Floor, Peninsula Centre, 67 Mody Rd, Tsim Sha Tsui East, Kowloon, Hong Kong. phone: +(852) 2366 2603)
–David Fashions (G/F Shop No.15 Empress Plaza, 17-19 Chatham Rd South, Tsim Sha Tsui, Hong Kong, phone (+852) 2368 6884) MTR Exit P3.
[Go Back to Top]
The following tailors are at the upper price end and considered top-notch:
W. W. Chan & Sons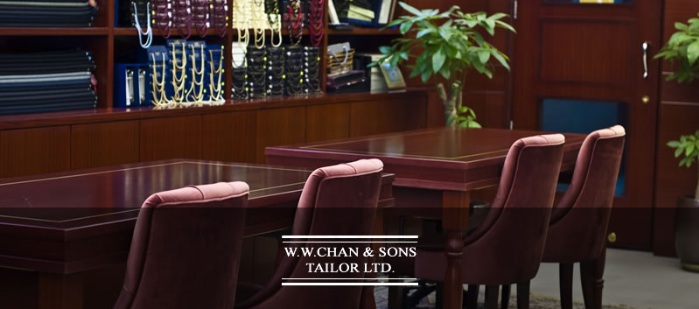 W. W. Chan & Sons
(Photo Source: W.W.Chan & Sons Hong Kong)
W.W. Chan & Sons are serving on the upper end of the price range. Suits and shirts are more expensive, but I hear many happy customer voices. W.W. Chan & Sons are in business since 1952. In 2002, W.W. Chan & Sons expanded their business into Shanghai and in 2010, they opened up a second store in the Shanghai Ritz Carlton Hotel. If you wonder if prices are cheaper in Shanghai, there are rumors that they charge about 20-30% less than in Hong Kong. But I'm not quite sure if you will get the same quality.
General Info and Details

Address: Unit B, 8/F, Entertainment Building, 30 Queen's Road Central, Central, Hong Kong


Business Hour:  10:00am – 7:00pm (Mon to Sat)


Phone:  +(852) 2366 9738 / +(852) 2366 2634
[Go Back to Top]
Other upper scale Tailors on Kowloon Side
If you are looking for the upper scale tailors you might want also to take a look at
–A-Ming Hing Cheong (located in M/F, Mandarin Oriental Hotel, 5 Connaught Road, Central) founded in 1898 – it is said that Hong Kong's most influential and richest tycoons purchase their suits here. If you opt for discretion, this is the place to go.
–H. Baromon Ltd. (located in the Galleria Shopping Mall, 9 Queen's Road, Central)
—Gordon Yao (located in the Shop 120B, The Royal Garden Hotel, 69 Mody Road, Kowloon, Hong Kong)
–Y. William Yu (located at 46 Mody Road, Ground Floor, Tsim Sha Tsui, Kowloon, Hong Kong photo +(852) 2369 2141). They do have a branch in New York City, USA.
[Go Back to Top]
Hong Kong Tailors on Hong Kong Island
Jantzen Tailor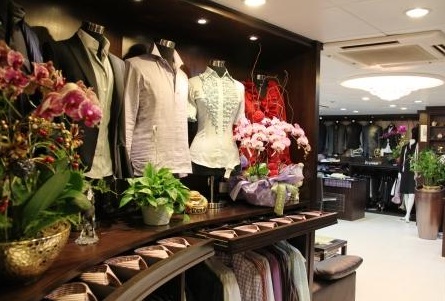 Jantzen Tailor
(Photo Source: Jantzen Tailor Hong Kong)
Jantzen Tailor is located right at the heart of Central (Hong Kong Island) and is famed for its shirts.
Business Hours: 11:30am – 8:00pm (Monday to Saturday) /12:00pm – 5:00pm (Sunday)
General Info and Details

Address: Room D-E, 5th floor., On Lok Yuen Building, 25-27 Des Voeux Road Central, Hong Kong (Central MTR Exit B2)


Business Hour:  11:30am – 08:00pm (Mon-Sat) / 12:00am – 05:00pm (Sun & holiday)


Phone:  +(852) 2810 8080 /+(852) 2570 5901
[Go Back to Top]
Tai Pan Row

Tai Pan Row Tailors
(Photo Source: Tai Pan Row Hong Kong)
Tai Pan Row Tailors has been established in 1973. Currently, there are shops in Hong Kong. Both are located on the Hong Kong Island side. Customers can choose fabrics from Ermenegido Zegna, Cerruti 1881, Loro Piana, Alumo and Canclini. Since they are located in the IFC Mall you can expect the prices at the high end side.
General Info and Details

Address: Shop 2033, IFC Mall, Central, Hong Kong


Business Hour:  10:00am – 08:00pm (Mon-Sat) / 10:00am – 07:00pm (Sun & holiday)


Phone:  +(852) 2147 2828
[Go Back to Top]
Jim's Tailor Workshop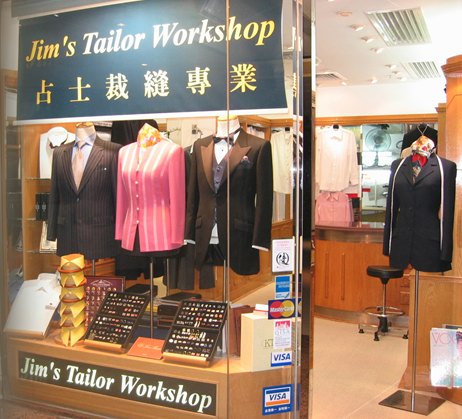 Jim's Tailor Workshop
(Photo Source: Jim's Tailor Hong Kong)
Jim's Tailor Workshop is not as big as the above mentioned competitors, but definitely worthwhile to have a look if you are looking for a reliable and consistent service.
General Info and Details

Address: Shop 37-38, 1/F, Tower One, Admiralty Center, 18 Harcourt Road, Hong Kong


Business Hour:  11:00am – 8:00pm (Mon to Sat)


Phone:  +(852) 2789 0751
The above mentioned tailors are just a small fraction of the available tailors in Hong Kong and our aim is to provide you an overview and selection. The selection doesn't necessarily mean that these are the best in town. Taste and experience can differ tremendously. Some people are happy with one of the tailors while others have bad experiences. Share your comments and thoughts with us. Who do you think is one of the best tailors in town? Who offers the best service? Who has the best prices? Who has the best quality?
Other Shopping Options and Tips
Line Friends Store in Hong Kong

Hysan Place

Cat Street

Kwun Tong Factory Outlets

Prada & Miu Miu Outlet

Shanghai Tang Outlet

Pedder Building

Kaiser Estate

Dickson Warehouse

Levi's Outlet

I.T Outlet

Nike Factory Outlet

Adidas Factory Outlet

Esprit Outlet

China Hong Kong City In-Town Outlet

Citygate Outlet

Wan Chai Computer Center

Golden Computer Center and Arcade

Mongkok Computer Center

Antique Street

Jade Market

Ladies Market

Sneaker Street

Goldfish Market

Flower Market

Stanley Market

Temple Night Street Market

Electronics Street
Custom-Made Clothing: Hong Kong s Best Tailors to Personalise Your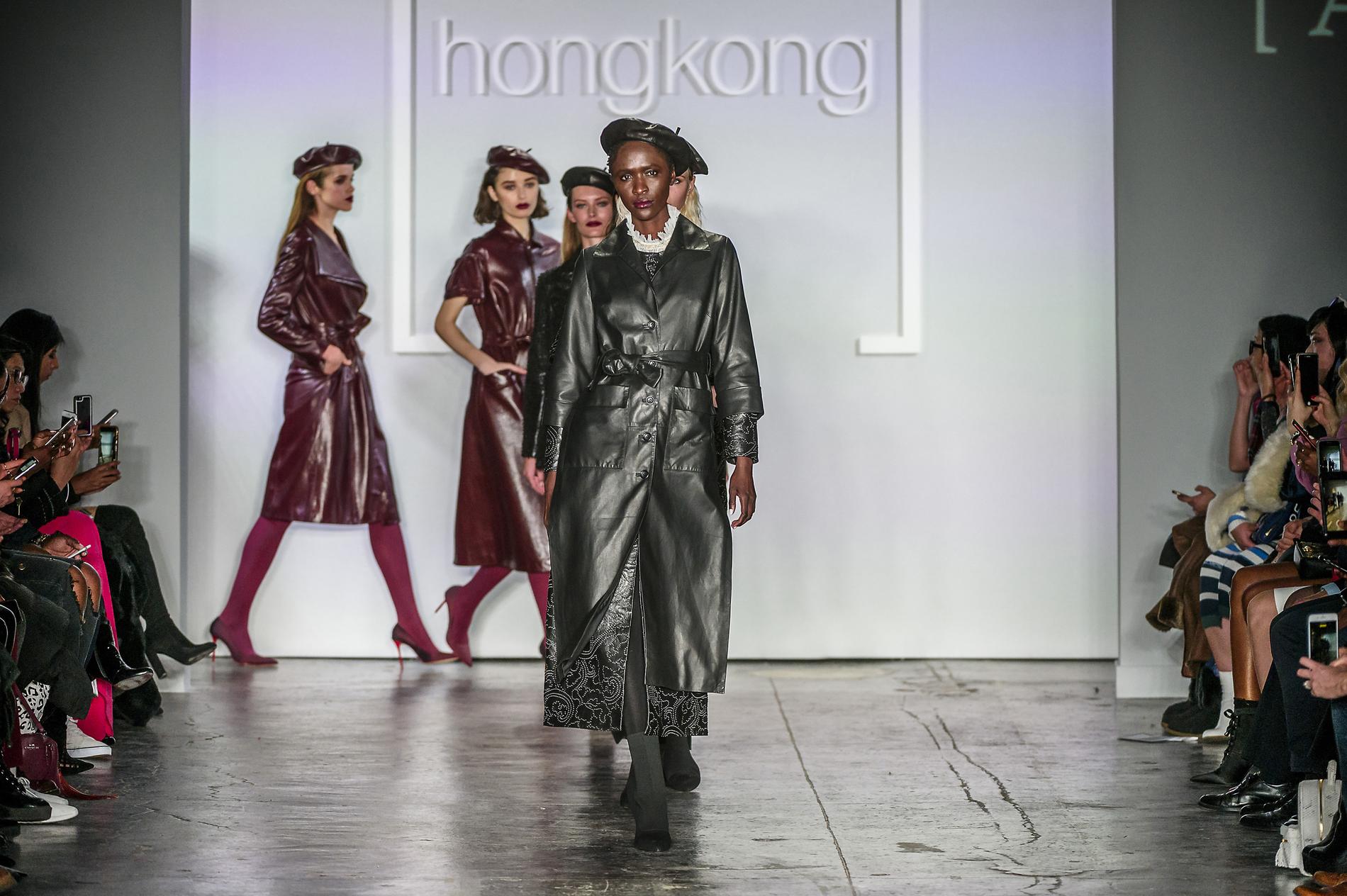 Prince Fashion Custom Tailor - Clothing (Brand) - Shop 25GA, G/F
John Lobb s new Hong Kong flagship shop shows exquisite
Where to Get Tailor-made Suits and Shirts in Hong Kong
Prince Fashion - Clothing (Brand) - 5 Photos Facebook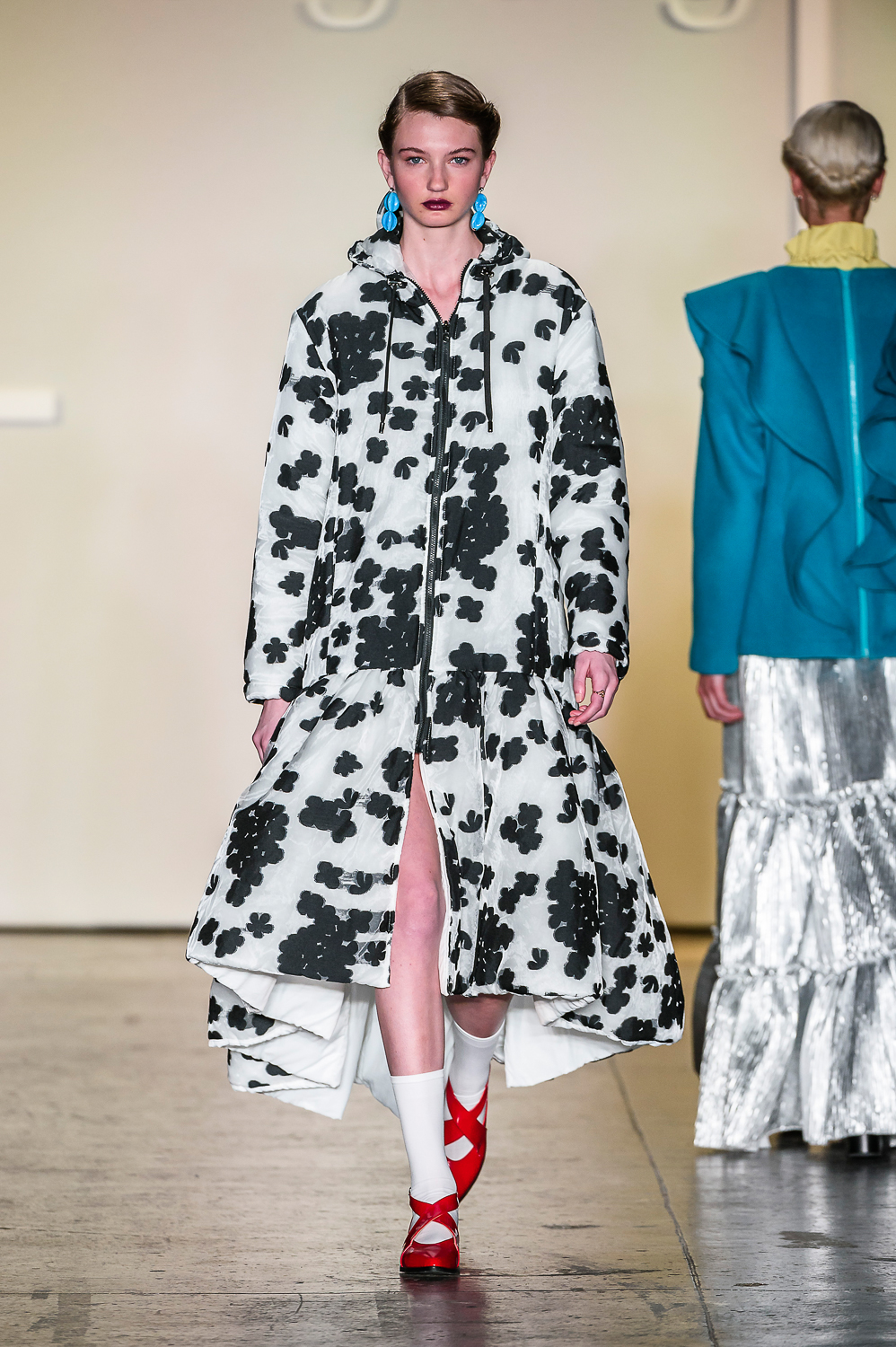 Hong Kong s best secret shops - Time Out