Writer: Govind Dhar
Half-Kuwaiti, half-Indian, based between Europe, the Middle East and Asia and with a background in architecture and a career in fashion, Tahir Sultan is practically the poster boy for cosmopolitanism. Marked for success and rising fast, we bet it won't be long before he becomes a household name.
Tahir Sultan is something of an anomaly. The Indo-Kuwaiti designer looks, sounds and dresses like a stylish young Arab, complete with his neatly manicured stubble but he is in fact half Indian too. Sitting upright on a divan in his beautiful New Delhi home, dressed in faded jeans, a white t-shirt and a natty navy blue scarf, Sultan's Indian identity comes through in short bursts. Casually slipping into Hindi mid-sentence, he tells me about his recent trip as a guest of Rajasthani royalty. Sultan's dual heritage puts him in the enviable position of being able to drink deeply of each culture's rich histories.
"I am very proud of my heritage. What I want is to be a bridge between these two cultures, pool their resources and come up with something that is new; that has never been done before," he says. "If you saw my collection for London Fashion Week, you would see how it was all greys and then there were these explosions of colour within them. Well, when I was in Rajasthan, I was being driven along and I had my headphones on. It was a gloomy and dark grey monsoon day. And then suddenly I'd see a woman walk by in the most colourful clothes, fluorescent pink or yellow, popping out of the landscape. That's how I got inspired for my collection."
Fresh from his debut at London Fashion Week in November last year, Sultan doesn't seem to have time to bask in the afterglow of his achievement. Working on his next collection, he is also creating a line that has received interest from fêted fashion retail leader Harvey Nichols, which alongside Browns, already stocks pieces from his London Fashion Week show. "For February, the main body of the collection is designed," he says to me, while phoning his jewellery designer for a meeting later in the evening. "We just have to get the silhouettes together. By January, 30-odd pieces will be ready and then embroidery will start."
Talking me through his life story, Sultan's identity seems aptly couched in his beautiful Delhi home. Filled with antiques, books and paintings, it's a warm mélange of artefacts from India and Arabia - masterworks by some of India's finest painters are thrown in with busts of winged gods on the walls. Moroccan and Syrian cushions, patina-coated copper vessels and ornate wooden bureaus and objets d'art are tucked into the nooks of the living room, with colourful woven rugs filling the spaces in between. It seems the perfect incubator for a fashion designer.
Not surprisingly, the designer's path to fashion meandered through studies in art and architecture. Graduating from Florence's Studio Art Centres International in 1997, Sultan went on to read architecture for three years as an undergraduate at the Architectural Association of London. "I hated it," he says of the degree, despite the fact that architecture seems to play a big part in his silhouettes, fast becoming a byword for his style. His father, Ghazi Sultan, studied at Harvard under the Bauhaus-legend Walter Gropius and went on to found one of the largest architectural firms in the Arabian Gulf, KEO International Architects. His mother Aruna Sultan, is a landscape designer, who championed the right of women to work onboard Air India at a time when the profession was considered disreputable.
"I come from one of the most educated, open-minded and cultural families in Kuwait," he continues. "I'm very blessed." Ghazi Sultan also opened one of the region's first art galleries in Kuwait City in 1969 and some of the international art legends it exhibited became regular house-guests. "In the 1980s, Andy Warhol would come to our house for dinner and Rajeev Sethi used to come for our birthdays."
When Sultan told his parents he wanted to leave architecture and join Central Saint Martin's College of Art and Design to study fashion, they warned him that he couldn't just walk in and expect to get a place. But essentially, that's exactly what he did. In 2006, Sultan managed to become one of the one-in-twelve applicants who get accepted at CSM. In preparation, he'd spent two years working for one of the biggest fashion choreography duos in India, Aparna Bahl and Taniya Lefebvre, collaborating on sets, sound and lights for some of the leading fashion designers in the country. After his admission to CSM, Sultan was marked for success by his mentors and worked his way into internships with Alexander McQueen and John Galliano.
"McQueen was not the best experience," he says. "Galliano was amazing though. I didn't take holidays. I just stayed there and worked, worked, worked." Sultan's diligence didn't go unnoticed. At one point, he was even entrusted with carrying vital collection pieces to and from India .
"For the autumn/winter 2008 collection, they needed all these pieces embroidered in India and they couldn't do it in time. I said I was going to Delhi soon, so I hand-carried a lot of that collection in my luggage and got it done." Setting his sights next on Christian Dior - one of his favourite fashion houses - Sultan made his way to Paris.
"I flew in for an interview with Catherine Barbier, head of haute couture for Dior. She went through my work and my pictures and said, 'You're really talented. Why don't you just start on your own?' So I did." Sultan's almost simplistic attitude to doing what he sets his mind to is a common refrain in his story. "Spirituality is a big part of my life. I meditate and do yoga. I believe that if you want something badly enough, you can build your life towards it," he says without a hint of irony in his voice.
While living in Kuwait in 2008, the fledgling designer took the advice he received at Dior and created his own label. His next few collections sold through stand-alone fashion boutiques in Kuwait, Cairo, Dubai and London. Despite selling well and receiving a lot of good press in India and elsewhere, he felt he needed to speed things up and make a change. "I needed to break into Europe. I'd moved to Dubai in 2011 but things weren't moving quickly enough."
A chance meeting with a fashion agent led to the possibility of taking his work to the next level. London Fashion Week came calling. "I found out in mid-July 2012 that I was going to be the first ever Kuwaiti designer at London Fashion Week." Only four years after graduating from one the most regarded fashion schools, Tahir Sultan found himself grappling with the nerves and anxiety of putting his designs on the world stage at the monumental fashion event. "It was so stressful. I was looking for significant sums over and above my usual cash flow. I was shuttling between Dubai, Delhi and London, getting my clothes made and shot."
After he surfaced, Sultan put out a brutally honest blogpost about his experience at London Fashion Week. The piece reads like something out of a movie; histrionics, hysterics and a good dose of Murphy's Law. "I got no sleep. I lost five kilos. I had to deal with so much incompetence," he says of the experience. "It was just one problem after the other. I really had to go to my quiet space. I told myself that I had two options. I could either lose it completely or keep it together. After it was over, FTV threw a party for me, there was a dinner but I just wanted some down-time. I know now what I will do differently next time."
Through the testing experience, Sultan kept his sense of humour about him by getting t-shirts printed for his crew and backstage teams with the words 'Who the f is Tahir Sultan?' emblazoned across them in a bold typeface. The t-shirts left their mark when they were banned by the organisers of Fashion Week. "By the end of it," the designer says with a cheeky grin, "I don't think there was any doubt as to who the f Tahir Sultan was."
Latest
14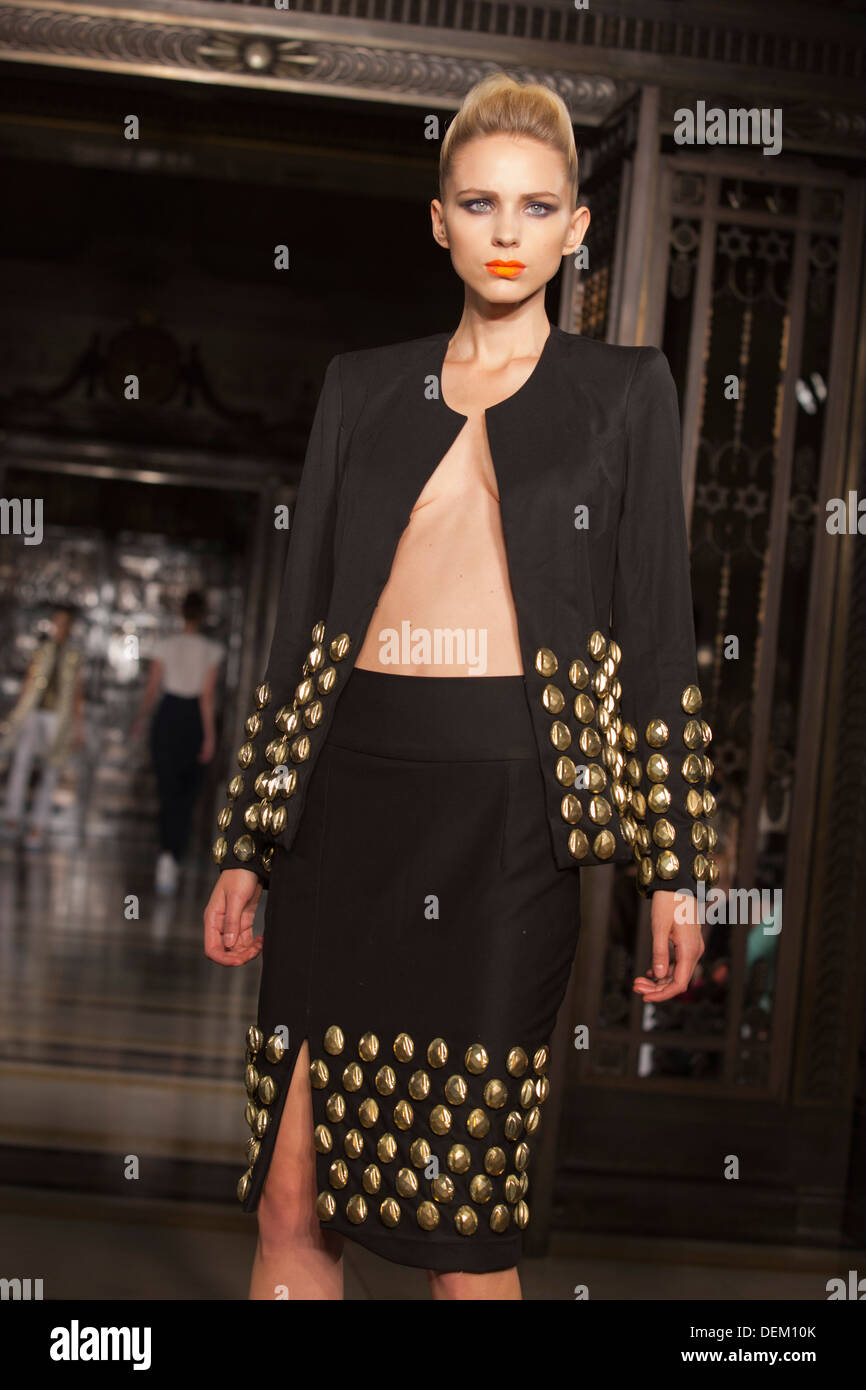 1960s Fashion - Hippie Clothes - Fifities Web
Academy of Fashion and Textile Technology - AFTT, Chennai
Artist and Design Philosophy Statements Fashion Institute of
Autumn Winter 2018 Fashion Week Trends British Vogue